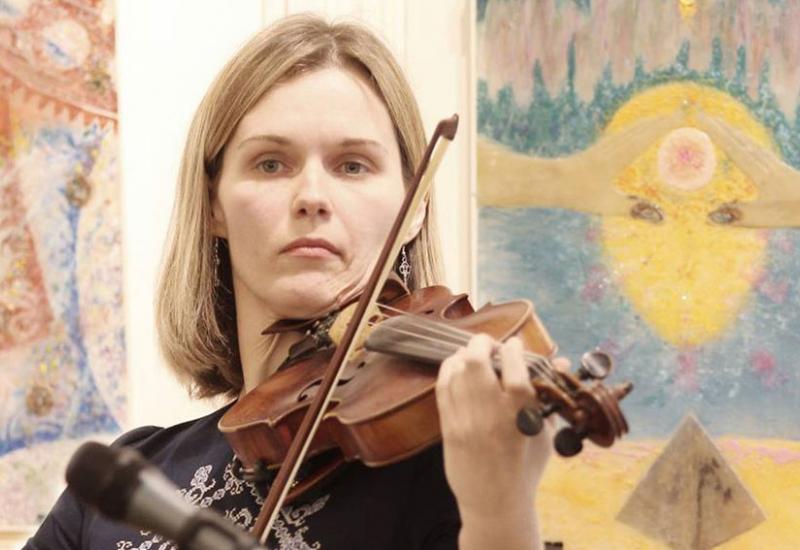 Teacher of our University organized the art exhibition in Kyiv Pechersk Lavra.
Paintings, like people, have their own destiny. The destiny of Sukharev Eugene's works recalls the myth of the Phoenix. For twenty years the artist had been reviving an ancient technique of painting - encaustic (wax painting). The artist was able to expand the horizons of traditional encaustic using glass as a base for painting and developed his own method of drawing on it the wax dyes (carving wax on the glass), and he suggested the use of pure wax (with adding colors), so the picture change color when temperature changes.
One day, the artist located his works in the barn, thinking that this is the best place to work of a little-known artist. So no one would see these pictures, if it was not seen by  a teacher of nuclear and thermal power of quantum physics faculty of the University. Scientist and violinist Vira Bondar with her husband decided to organize an exhibition of the master.
All managed not right away. Some patrons of art, to which Sukharev's initiators of works exhibition applied for support, have not seen in this opportunity or benefit of their own PR, so the idea is simply ignored. Hence, the teacher of the Igor Sikorsky KPI had become a patron itself. And we were convinced that it does not have to be rich but more important to have a rich heart. The winner of grants "Swiss Excellence Postdoctoral Fellow" Vira, who has conducted the research in the world famous Swiss Paul Scherer Institute, earned money there and used them to organize the exhibition.
Exhibition of works by Eugene Sukharev "Encaustic. The mystery of the Universe" was exhibited at the Museum of Books and Printing that in the monastery. Then it was moved to the Radomysl Castle, Zhytomyr region.
Eugene Sukharev was born in the village Grinchuk of Kamenetz-Podolsk district. After the cultural-educational school moved to Kamenetz-Podolsk, where he worked at the plant "Elektropribor". Here the presence of copper, brass and aluminum opened him opportumity to the first creative efforts and ideas in kind of a secret creative laboratory. However, Eugene Sukharev developed another talent - talent of musician. He graduated from the Kyiv Institute of Culture (his classmate was, incidentally, Nazar Yaremchuk), specialty "Conductor of the orchestra of folk instruments." The 21-st year of his life he spent by teaching children with visual impairments (taught music, singing and wood carving). When carving classes and had the idea to use encaustic technique. To the disciples did not pricked fingers timber, Eugene decided to replace it with wax. Eugene Sukharev and today continues to experiment with encaustic, exploring the Universe.