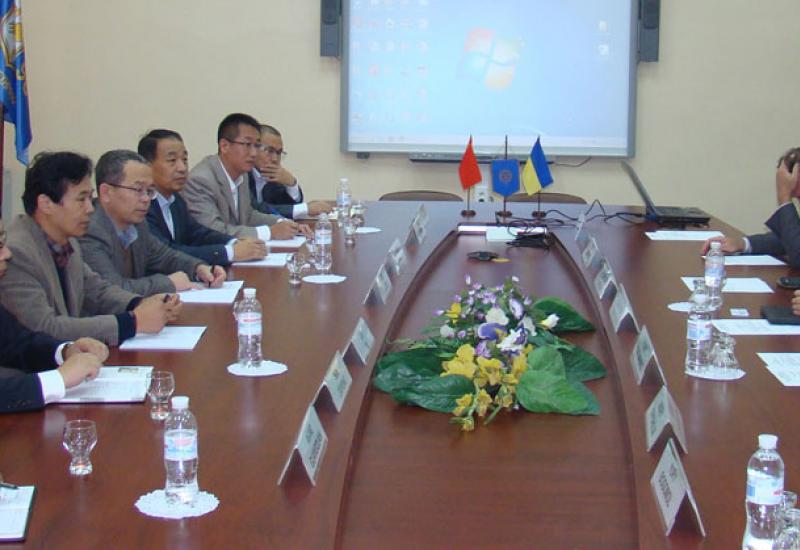 The delegation of Mongolia Dynamic and Mechanical Institute (China) headed by the director of Institute Mr Liu Yu has visited NTUU "Igor Sikorsky KPI" on October 11, 2016 . The staff of this institute was the first time in Ukraine. The visit was organized by the Beijing NF international training and consultation center and the faculty of aviation and space systems.
From "Igor Sikorsky KPI" the meeting was attended by First Deputy Rector Yu.I.Yakymenko, FAKS dean O.V.Zbrutskyy, head of foreign economic activity A.P.Shysholin, deputy dean of IFF Yu.I.Bohomol, Professor of ZF I.V.Smirnov, chief engineer of the department of theoretical mechanics FAKS, manager of international projects L.V.Stetsyuk, deputy dean of FAKS V.F.Kryshtal, ex.r. of Head of Department Professor PSKLA. V.V.Suhov.
The Chinese delegation got acquainted with our university, with an exhibition of the Department of Aviation and Cosmonautics of Igor Sikorsky.
The meeting included presentations of NTUU "Igor Sikorsky KPI" about modern achievements in the field of aircraft control systems and materials science. The director of Mongolia Dynamic and Mechanical Institute (China) Liu Yu told about activities of the Institute and expressed his proposals for cooperation.
The sides found mutual interest to cooperate and agreed to prepare an agreement on cooperation in the sphere of navigation technologies, new materials and alloys, training specialists in these areas, programs of mobility of students and employees, holding joint scientific events (conferences, seminars, symposiums).
L.V.Stetsyuk, leading engineer department of
theoretical mechanics, coordinator of FAKS international projects