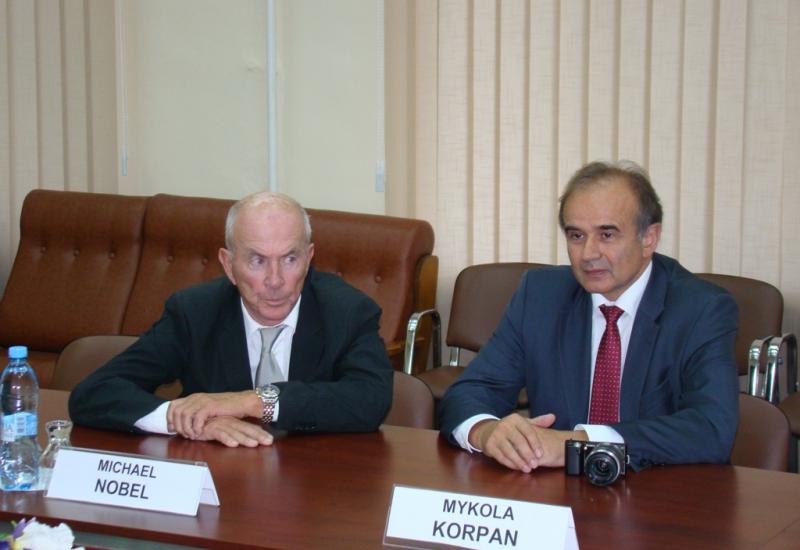 Professor Michael Nobel - member of Alfred Nobel family, the founder of the most prestigious award in the world that is given annually for scientific achievements in physics, chemistry physiology or medicine as well for significant contribution into the world literature and piece building visited Igor Sikorsky KPI on 19th of September. The outstanding Austrian surgeon of Ukrainian descent, Mykola Korban was on a visit together with Michael Nobel.
Over 15 years Michael Nobel has been a vice head and soon a head of the Board of directors of Nobel family. Now he is a head of the fund for sustainable development in Zurich (Switzerland) and a few non-profitable organizations in the field of education, development and international conflicts settlement.
At present, the fund headed by Michael Nobel actively works towards the development of international contacts and establishing connections with leading scientific organizations and educational establishments, research of particular problematics being in the scope of their activities. Thus, the conversation rector of National technical university of Ukraine "Igor Sikorsky Kyiv Polytechnic institute", academician of Ukrainian NAS, Mykhailo Zgurovskyi as well as deputy head of the department for international cooperation of the university, Yevgen Polishchuk and others took part in related to the work and best practices of KPI scientists in the field of sustainable development. In particular, work of World Geoinformatics and sustainable development data Center that has operated for more than ten years on the basis of the university. WDC-Ukraine is a part of the World Data System (WDS) of International scientific board; its activity is realized according to "System Management of World Data Center", WDS Constitution and some other recommendations of WDS Scientific Committee regarding data politics. Thus, as discussion members noted, the partnership of WDC-Ukraine with Nobel fund of the sustainable development might be useful and productive. In the end, agreements on relationships and further lines of cooperation were reached as well.