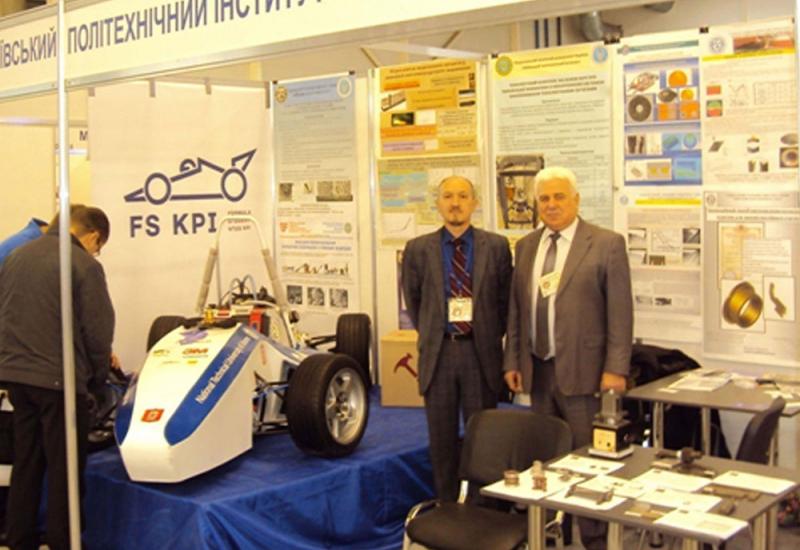 MMI at the International Industrial Forum
From 24 to 27 November 2015 in Kiev at the International Exhibition Centre was  held the largest industrial exhibition in Ukraine - XIV International Industrial Forum. The forum was held International specialized exhibition "Metal working. Tools. Plastics 2015".
Special interest and positive feedbacks are clearly caused by  MMI developments:
In this exhibition, the staff of the Institute of Mechanical Engineering, welding, chemical engineering and instrument-building  faculty presented the results of the latest scientific developments - innovative technical solutions and product samples.
1. Current model of race car was created by using innovative technical and technological solutions (head of scientific direction prof. A. Pasechnik);
2. Innovative technical solutions prepared for implementation in production (head of scientific direction prof. L.F.Holovko):
Production of bimetal, corrosion-resistant construction of shells petrochemical and nuclear power equipment; for the manufacture of anti-friction bearings; and with special properties for production units rocketry;
Producing laser processing holes in the aircraft engine parts with high performance and accuracy;
Two-beam laser metal forming spatial structures of complex configuration from sheet materials;
Improving the durability of details with help of solid lubrication;
Laser hardening of parts and tools with sharp carved edges  of wedge shape.