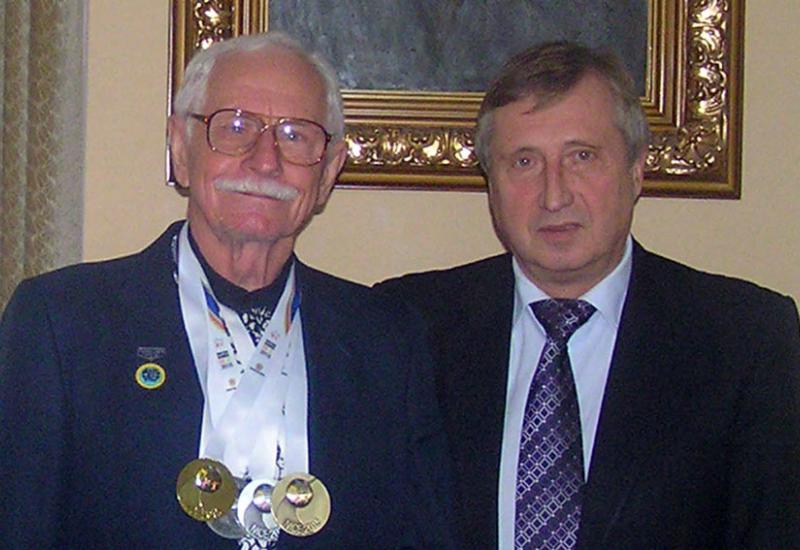 Professor of the History Department (FSL NTUU "KPI") was in the past its curator for many years. He is a famous Ukrainian scientist and the first co-chairman of the Historians' Association of Higher Education in Ukraine. Boris Pavlovich Kovalsky came back recently from the third European games for veterans of sports which are held in Nice (France).
He returned with a brilliant victory. Specifically, with the victories because he has won one gold, two silver and one bronze medals of the championship in the age group 70+  ie among athletes aged 70 to 80 years.
He won gold in weightlifting competitions, one silver - in the discus throw, the second - the shot put and bronze - in the javelin.
That were not the first European games for veterans in his life. And all the time he comes back home with different awards. Today he is one of the leaders of the world weightlifting in his age category. Also he travelled around the world with Ukrainian National Team. However, the state doesn't care of sports foe veterans and all such trips are made at the expense of various sponsors.
Actually all his life is closely bound with sport. Moreover, in his youth he was even awarded with title of Master in decathlon sport. He didn't betray his interest even being adult – he was actively engaged in weight training and technical kinds of athletics. As we know such activities require uncommon physical force (shot put, hammer throw, disc, javelin).
He travels at various competitions for veterans for over twenty years and is one of the most experienced athletes in the Veterans' Ukraine National Team. Such capture not only prevents but also contributes to his scientific and educational activities: Boris Kovalsky spends a lot of time among young people- both in classrooms and in the gym or athletics sectors of the stadium. It is worth mentioning that in order to succeed in those kinds of sport athletes should have force, good coordination and speed. Without regular training such qualities are rapidly lost. So three times a week on all weathers you can meet Boris Pavlovich at University Sport Complex. He can be an example for younger athletes in his attitude to training. So it is a main reason of his success. He is engaged on his own methodology using extensive life and sport experience knowledge of physiology and ways to restore the body after stress. Also he is always attentive to tips of experienced colleagues who can point him to mistakes and suggest something.
He tells smiling that sometimes unknown young athletes with undisguised skepticism watch how he starts to warm up but soon when the real work with weight and shells begins their skepticism rather rapidly changes with amazement, interest, and sometimes with barely concealed jealousy to his results.
By the way according to his words there is a very strong veterans' team at NTUU "KPI". It was strong enough has won in internal Ukrainian competitions in different kinds of sport.
So we congratulate Boris Kovalsky with his impressive success and wish him even more years of successful work in science and victories on lifter platforms and stadiums around the world.