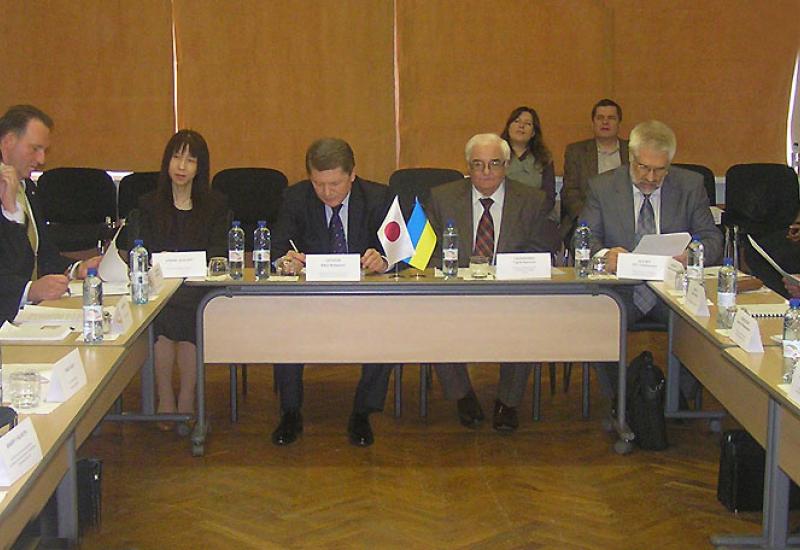 16, September the director of the Ukrainian-Japanese center NTUU "KPI" Yuriy Kushnarov  received at the Center a respectable Japanese delegation, who was in Ukraine in order to exchange experiences with Ukrainian experts on Post-Chernobyl issues. The Japanese delegation was led by Yuko Endo, who is a mayor of the village Kavauchi of the Fukusima prefecture and Noboru Takamura, who is a professor Research Institute diseases, caused by the atomic bombings, Nagasaki University. The group of  Ukrainian experts was headed by Head of the State Agency of Ukraine exclusion zone, Yuriy Antipov. In the meeting also took part Deputy Ambassador Japan in Ukraine Mrs. Hiromi Nakano and pro-rector for International Relations NTUU "KPI" member of the National Academy of Sciences of Ukraine, Serhiy Sydorenko.
   The Japanese side made a presentation of measures, undertaken by the village administration Kavauchi for restoring territories, contaminated by the accident at the nuclear power plant "Fukushima-1" and provided information about the activities of the Nagasaki University, which experts conduct research radiation damage of population  Fukushima prefecture. During the discussion the sides discussed possible directions of further cooperation.
   On this occasion, pro-rector NTUU "KPI" Serhiy Sydorenko invited guests to attend in a work the International Forum "Chernobyl's Legacy for the Nuclear Safety of the World", which leadership KPI and Chernobyl nuclear power station plans to hold in April 2016, involving a wide range of scientists, politicians and the public.