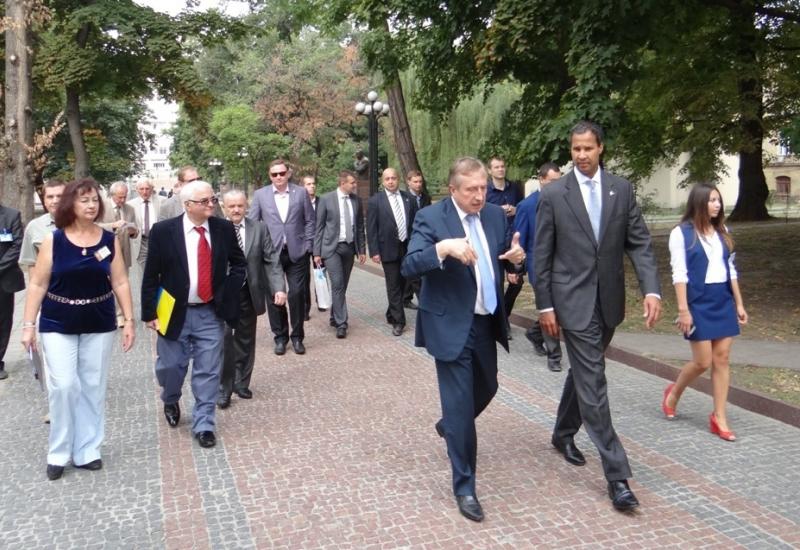 On September, 4th Marc Allen, the president of 'Boeing International' visited National Technical University of Ukraine 'Kyiv Polytechnic Institute'. The company networks internationally and represents one of the biggest and famous aircraft and spaceships manufactures – Boeing Corporation (USA).
Marc Allen was accompanied by company's employees and the managers of the key partner of Boeing Corporation in Ukraine, 'Progresstech-Ukraine', which is in the group of companies that provide intellectual services in aerospace and air transport spheres in Europe, Northern America 'Progresstech': Sergii Kravchenko, a vice president of Boeing International, Mykhailo Yanchychyn, a business development director 'Progresstech-Ukraine', Volodymyr Kulchytskyi, the head of board of directors of 'Progresstech', Andriy Fialkovskyi, the director of 'Progresstech-Ukraine', Maksym Hladskyi, responsible for programs and project of professional development of 'Progresstech-Ukraine' employees, and others.
Mykhailo Zhurovskyi, rector of NTUU 'KPI', academician of NAS of Ukraine, Sergii Sydorenko, prorector on foreign affairs, associate of NAS of Ukraine, Mykola Bobyr, director of Mechanical and machine engineering institute (MMI) of NTUU 'KPI', associate of NAS of Ukraine, lecturers and scientists, met the quests.
Acquaintance with the university for Marc Allen started from Science and Research Library. There was a walk along the Fame Alley after during which Mykhailo Zhurovskyi briefly told the guest about the lives and achievements of prominent scientists and constructors portrayed on the monuments. During this excursion representatives of Boeing Corp. and 'Progresstech-Ukraine' met three university graduates in gowns. President of Boeing International was speaking actively with them and figured out that they graduated from Head-and-power faculty; he also was curious to know what they planned to do in life and finally took a picture near the monument of a glorious aero engine engineer, Oleksandt Mikulin, as a keepsake.
After it, the guests looked at the exposition in State Polytechnic Institute where they got acquainted with the modern history of the university and closely observed the exhibit items in the department of aviation and astronautics. Marc Allen was especially interested in exhibits connected with Igor Sikorskyi (this museum department was named after him), the person whose name was written in the history as one of founders of aero building sphere of Ukraine and the USA as well.
The guests have also visited scientific and research laboratory named after S.P. Tymoshenko of Mechanical and engineering institute as well as common educational center of KPI and "Progresstech-Ukraine"company, opened on the basis of this institute in summer 2014. The main direction of this center is training of mechanical engineers for work in aviation industry, thus the doors of this center are always open for a great number of potential employees of "Progresstech-Ukraine" company so that they have a great opportunity to be involved in projects of Engineering center of "Boeing"corporation, opened this year in Kyiv.
After visiting the Joint science and research center Marc Allen had a conversation with university media.
'Legacy. Historical legacy that you institute preserves was what made the biggest impression. When I was in the museum I realized that plenty of KPI graduates changed this world and made a lot of inventions that are used in all spheres of science and technology '- he answered the question that he liked the most while visiting KPI Campus.
Answering the question whether Boeing Corp. plans to continue cooperation with NTUU 'KPI', Marc Allen said: 'No! We're going to expand, deepen and strengthen it. Our partnership is based on a very simple idea: we need more engineers for our Engineering Center 'Boeing' in Ukraine that we're creating with 'Progresstech-Ukraine' Company. This means that we need more KPI graduates that will come to work with us. I will do my best to expand and strengthen the cooperation between KPI, 'Progresstech-Ukraine' and 'Boeing'!'
Then, after the discussion in History Hall of Science Council, Marc Allen presented university staff a great album-book devoted to 100-jubilee of Boeing Corporation that would be celebrated next year. The book just came out and includes unique pages from Corporation history. In his turn, Mykhailo Zhyrovskyi presented souvenirs as a keepsake of Mr. Allen's visit to Ukraine.
Finally, the participants laid flowers to the Stepan Prokopovych Tymoshenko's monument, ex-lecturer of KPI and a prominent Ukrainian mechanic-scientist who had lived and worked for many years in the USA.