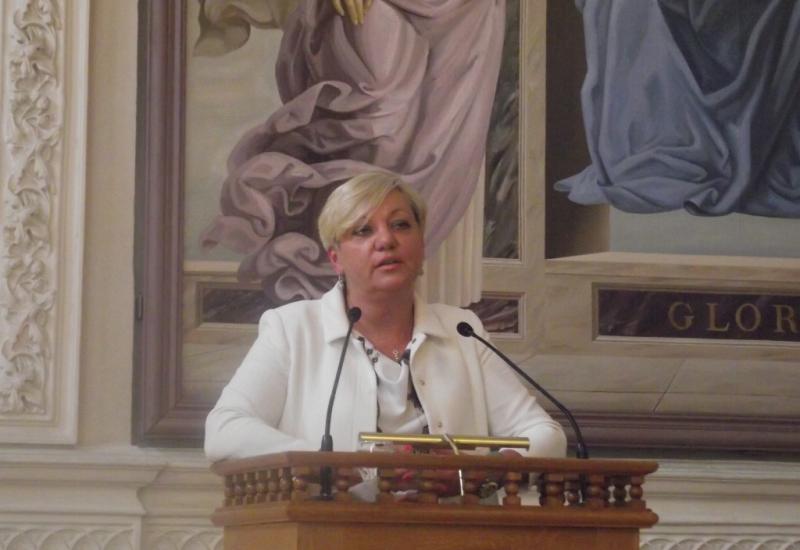 On September, 2nd NTUU 'KPI' students had a meeting with Valeriia Hontareva, the Head of the National Bank of Ukraine.
The meeting was arranged for symbolic day of Ukrainian national currency: hryvnia (UAH). This very day 19 years ago Ukrainian national currency, hryvnia, appeared in financial flow. Two weeks later, on September, 16th 1996 hryvnia became the only money unit in Ukraine sending coupons and karbovanetzs to museums, private collections and on pages of books from history and economics.
Students and employees of several faculties who came for the meeting with the Head of the National Bank of Ukraine to the Hall of Science Council heard about this and plenty of other things.
However, the meeting started from another issue. While NTUU 'KPI' rector, Mykhailo Zhurovskyi, was introducing the guest to the audience, there was a surprise to know that Valeriia Hontareva obtained her first higher education at Instrument Design and Engineering Faculty. Actually, he started his speech from this. 'Thirty years ago I had no idea that would be in the status of the Head of the National Bank of Ukraine and would be giving a speech in front of you – said Hontareva. I didn't understand that the qualification of our university isn't lower than, let's say, Massachusetts technological institute and our Student Camp isn't worse than student camps in Cambridge or Oxford. It's been a while, I obtained one more higher education – economical, and my life has been connected with financial sphere for 22 years since than. However, I always remember my Alma Mater where I gained profound knowledge 30 years ago… Dear students! I'm convinced that you've made the right choice by choosing KPI. Nowadays, the profession of engineer is very competitive on the market. Our country needs your minds and energy. It's high time to deviate from resource model of economy, it's time to build highly technological and innovative country.'
The conversation proceeded with the discussion of the National Bank of Ukraine performance and its role in the Ukrainian economy, its mission and objectives. Considering that there were a lot of competent people in bank sphere, Valeriia Hontareva started from the NBU responsibilities, stopped at the monetary policy questions and its instruments, forex reserves (they account 12, 6 billion of US dollars and it's expected to increase them to 18 billion of US dollars), issues connected with macroeconomical planning, forecasting and money issuing (by the way, there're 284 million of hrynnias in cash flow in 2014 – it's 2,8 billion of banknotes). She also told about the activity of Banknote-monetary Department of NBU (the Head suggested organizing an excursion for KPI students and get them acquainted with implemented state-of-art technologies): about why banks are considered to be blood vascular system of any country's economy etc.
A separate part of Hontareva's lection was devoted to the questions of reorganization of financial sector. The reform is being realized in three stages. The first: clearance of financial sector, that is to extract insolvent banks (according to the Head of NBU, 54 banks were claimed as insolvent, and 45 of them were liquidated, so 126 banks function nowadays in Ukraine). Besides, a substantial part of corruption schemes of money embezzlement was liquidated); increase of capitalization; naming owners and cleaning from so called 'garbage' assets. The second: rebooting of financial market and building the strong base for stable development; intensive protection of creditors, financial services clients and investors; reestablishing credibility; development of infrastructure; decrease of part of cash payments etc. The third: sustainability of financial sector, increase of internal and external investments etc. We have succeeded in reformation of financial sector regardless of very difficult circumstances. According to Hontareva, key achievements lay in stepping back from fixed exchange course and not spending money to support it; bank sector was cleaned; the first stage of recapitalization of bank system was finished; channels of cash outflow were closed and the practice of money laundering was stopped as well; cooperation with IMF (International Monetary Fund) – the country receives critically important financial support; the Complex program of financial sector development up to 2020 with the terms and conditions established, results expected and duties was elaborated and confirmed; institutional independence of NBU was enhanced on the legal level.
The Head of NBU also said about the principle of '5P' (in Ukrainian) that determines NBU employees' values: patriotism, professionalism, transparency, honesty and partnership.
There was the conversation between KPI students and teachers with the Head of NBU. Questions from the audience were mostly diverse and professional.
Answers were as interesting as the lecture itself. Thus, answering questions concerning the NBU profit, Valerii Hontareva said that this year the Bank will transfer 62 billion of UAH to the National Budget of Ukraine. Besides, there was a lot of new information about the volume of refinancing of problematic banks – the Head explained that a lot of information from mass media and political parties disagree with the facts: in fact, during the present refinancing process only 12 billion of UAH were given instead of hundreds claimed, besides, the NBU absorbed, e.g. took, 3,5 billion of UAH from financial sphere. The Head also stressed that the refinancing is now a completely transparent process comparing to previous periods.
Students were also curious to know whether the NBU uses international experience of its partners (there are IMF, the World Bank and European Bank of reconstruction and development, central banks of a range of developed countries, e.g. Canada and Sweden, among NBU's partners); asked about the influence of Chinese 'Black Monday' on the Ukrainian economy; reaction of Ukrainian creditors and external markets on restructuring of bonds; possibility to close bank deposits before the terms etc.
Finally, Mykhailo Zhurovskyi presented the guest with memorable souvenirs and prepared by university specialists set of analytical materials concerning 8 possible scenarios of national economy development for medium-term (2015-2020) and long-term (2021-2030) periods.