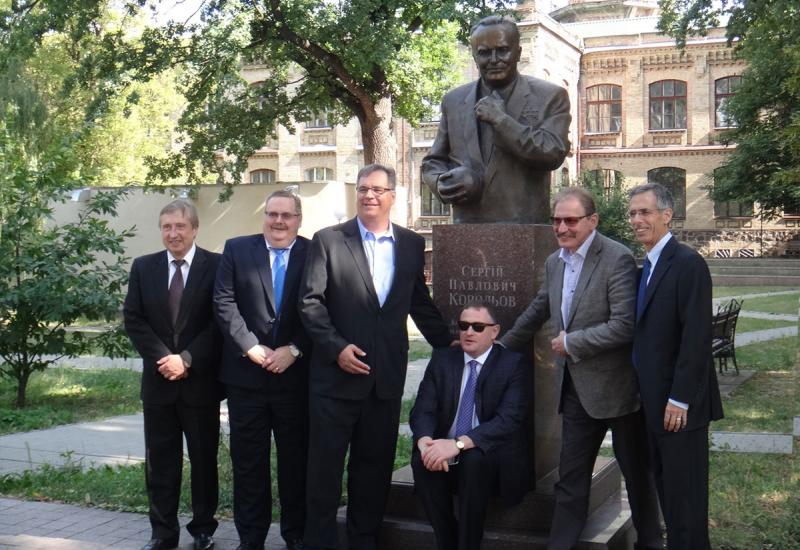 Representatives of Boeing and Progresstech-Ukraine visited KPI on July, 29. John Tracy, general technical director of Boeing, Mike Delaney, vice-president, Tod Zarforce, vice-president, Sergii Kravchenko, president of Russian representative office of Boeing, were introducing the Boeing Company. V.A. Kulchytskyi, director of business development, Chief of Board of Directors and others were representing Progresstech-Ukraine. M.Z. Zhurovskyi, NTUU 'KPI' rector, S.I. Sydorenko, pro-rector of international relations, M.I. Bobyr, director of MMI were greeting the delegation.
Guests visited Scientific and research library where saw Foucault pendulum and exposition "Famous Ukrainians"; they also walked along Fame Alley where they found out about life of prominent scientists and constructors whose activities were connected with KPI. Delegation also observed the exposition of State Polytechnic museum where they found out about the past and present history of the university, thoroughly familiarized themselves with the showpieces of the Aerospace Department named after I.I. Sikorskyi. M.Z. Zhurovskyi, academician and rector of NTUU 'KPI' informed guests about University achievements and latest scientific research.
Moreover, guests visited MMI, the Department of Dynamics and Capacity of Machinery and Strength of Materials: Joint Scientific and Educational Center of KPI and Progresstech-Ukraine Company, prominent mechanics-constructors lecture room etc.
Guests shares their impressions from their visit, future plans and cooperation in the Board of Academics Hall. John Tracy highlighted the particularity of KPI education where they could observe the respect for past achievement and orientation on future. The same approach is realized in The Boeing Company where portraits of Company's founders are exposed on the office walls, and present directors are adjusting their actions with predecessors' achievements. He considers cooperation with NTUU 'KPI' positive partnership directed on reclaiming sky and space.
At the end, event participants exchanged presents and put flowers to honour S.P. Tymoshenko memorial.