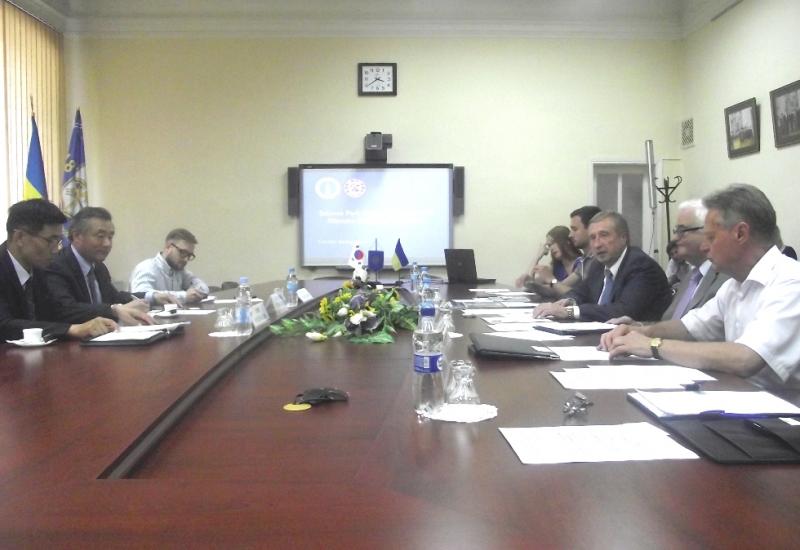 On the 15th of June NTUU "KPI" was visited by Ambassador Extraordinary and Plenipotentiary of the Korea Republic in Ukraine Sol Kohn-Hun and a military attaché of the Embassy of the Republic of Korea Choi Seok-Hyonh.
The guests met with the rector of KPI academician of NAS in Ukraine Michael Zgurovsky and discussed cooperation with the University. The meeting was attended by rector of the University of International relations of NAS of Ukraine Sergey Sidorenko, Vice-Rector for Research Valeriy Barbash, CEO of Scientific park "Kyiv polytechnic" Jaroslaw Kologrivov, head of Startup School KPI «Sicorsky Challeng» Inna Maliykova and university scientists.
For the head of the South Korean diplomatic mission and his colleagues university staff made a number of presentations. Scientific park "Kyiv polytechnic" and his projects introduced by CEO Jaroslav Kologrivov. He also told the guests about the university scientists developed a portable system for water treatment in the field conditions "Owl". Massive KPI space program and its first-born - the first Ukrainian Student nanosattelite "PolyITAN-1", which is now in Earth orbit and it was presented by its leader Boris Rassamakin. About unmanned aerial vehicle of «mini» class «Spectator» told the author Roman Karnaushenko.
"We cannot just talk about this drone - said during the recent presentation of the Rector of NTUU" KPI" Michael Zgurovsky - but also on a number of different types of UAV different customer needs and characteristics that can develop our specialists. The same applies to water purification systems. It was represented by only one system "Owl", but scientists of KPI work with a wide range of technologies of such purpose. "
Sol Kohn-hun and Choi Seok-Hyonh are well acquainted with the developments supported fund scientific and technological development of Ukraine named after V. Mikhalevich - system audit wireless Wi-Fi networks "Ratibor" (it was represented by Alexander Haluschenko) and others.