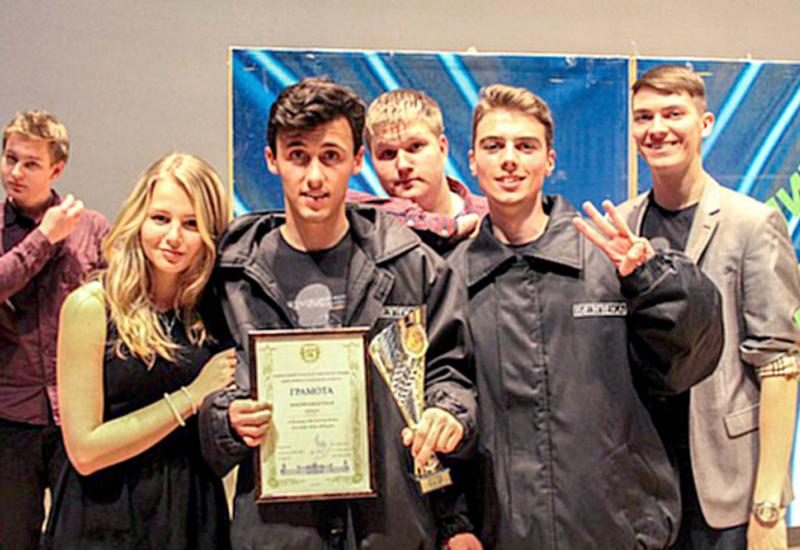 May 13 Spring Cup KVN "KPI" League took place in the Center of culture and arts NTUU "KPI" with the support of MP Ruslan Kysil.
For the Cup of the most fun faculty fought FSL, FMM, ESITS, FCT, and IMF. The teams were judged by fair jury, which included graduates of KPI Olexandr Ganko (author of "Studio Kvartal-95"), Olexandr Baraboshko (popular blogger Krus) and actor of studio "Mamahohotala" Eugene Yanovich.
First "Visit Card" — a competition presenting teams to the audience. The first team was ESITS. Their salt is that even their soundman has own jokes. They have no fear of God and joke about KPI Church.
FCT team impressed everyone with its unconventional approach to humor. There were only two guys on stage and their good friend — cardboard dog Myhasyk.
One of the strong teams also was the FSL. Girls denied the public opinion that that women cannot joke. The team showed a conflict between male and female half and ridiculous thumbnail of the trade union committee.
Next competition "Warm Up". Every viewer could ask a question to the teams. The indisputable winner was FCT. The boys tore the hall with their jokes.
The following competition — "Biathlon" and 'Students theatre of miniatures with celebrities". Each team could choose any famous person and make a funny performance together. FMM team invited press secretary of KPI Eugene Bulda, FSL invited rector of KPI Petro Kyrychok. In the FCT team miniature participated the winner of "Comedy Battle" Olexandr Sas.
However, the real applause got an ordinary dining cook from fourth educational building of KPI.
ESITS invited rector of NAU Yaroslav Kozachok and he played his role as a real actor!
Real gift to the audience was the performance of team from instrument-making faculty (IMF). They invited Olexandr Pikalov, actor of "Studio Kvartal-95".
Finally, the long awaited final and winners announcement. The first place — FCT, the second — FSL, the third — IMF, the fourth — ESITS, and the fifth — FMM.
We wish KVN League KPI prosperity and looking forward to seeing funny miniatures and jokes.
See you the next new season!