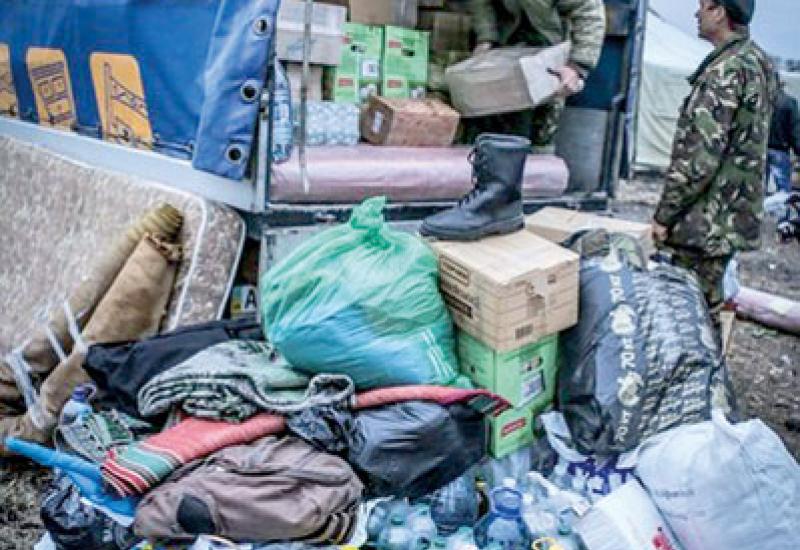 The anti-terrorist operation is held at the East of Ukraine. The fighting continues with sadness and sorrow for the victims and wounded Ukrainians. There are KPI students, professors, and staff among those who defend Ukraine. Thousands of people on a peaceful territory do not stand aside. They do their best to support our defenders.
NTUU "KPI" takes an active part in supporting our soldier's military units. In order to make this work effective, the ATO support headquarters in NTUU "KPI" was established. It consists of the representatives of student organizations and administration: DSEW, campus, academic communities, student councils and Trade Union of Students, the Initiative group of dormitories №20 and № 8. The information page, where the news and reports about the work of the headquarters, procurement information and necessary things for the soldiers is posted, was already created in the social network .
During the work of staff a lot of useful things were purchased and sent to the war zone, such as: clothes, supplies, tactical goggles, monocular, thermal underwear sets. 250 Balaclava were sewed, beds and mattresses, pillows and blankets, shoes, batteries for devices night vision, sniper suit were transferred; food products are collected; boxes for fundraising were set.
Therefore, each of us has the opportunity to participate and help. The initiative students group under the direction of Ivan Brodac helps to carry out welding work as well as improves the protection military equipment. Alexey Ivanov regularly visits the soldiers at the checkpoints and at the forefront and brings all the necessary things. There were organized several charitable actions, such as KPI MARKET. Here people could buy souvenirs, handcrafted items and could taste the handmade cookies. The money raised at the actions will be spent on the necessary equipment. The KPI in collaboration with other universities will participate in other charity fairs of Kyiv.
The money is basically spent on the equipment and protective clothing, as these things are vital. The first item to be bought by KPI volunteers was
the thermal camera. However, the amount of money raised is too small; we need more than 50,000 UAH.
Special stickers were produced. Money from their realization will be spent on the ATO fighters help.
Volunteers continue their work helping and supporting soldiers. It is our responsibility to participate in such charities, because we are to build our future. Let's do everything to help the soldiers that protect our future: supply warm clothes, food, funds for the purchase of ammunition and send letters of support.