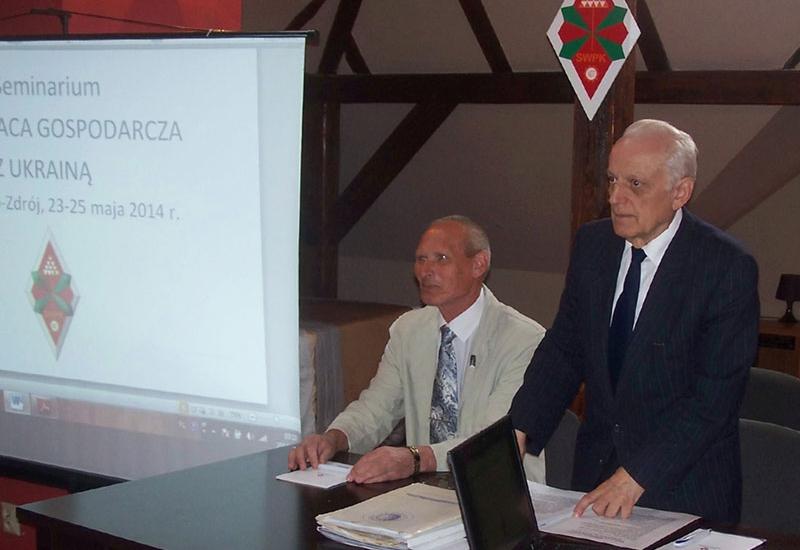 23-25 May 2014, a seminar on "Economic cooperation between Poland and Ukraine", organized by the Section of graduates KPI, was held in Szczawno Zdroj (Poland).
Delegation of NTUU "KPI" - prof. Vasily Gerasimchuk (pictured left) and Assoc. Svetlana Andros attended the seminar. Ambassador of the Socialist Republic of Vietnam Pham Kien Thet also attended the workshop, where he arrived as a graduate of the Kiev Polytechnic Institute.
Ambassador of Vietnam in his speech mentioned teaching in Kiev together with Polish colleagues and thanked the Section for its activities. Professor Gerasymchuk gave a lecture on the Kiev Polytechnic. Particular attention he focused on work of NTUU "KPI" with foreign students and its cooperation with Polish technical universities.
Report on the Economy of Ukraine was presented by Zygmunt Nikodem. Based on data from the State Statistics Service of Ukraine, he noted that Ukraine's gross domestic product in 2013 remained at the level of previous year, industrial and construction output fell, and in agriculture the results were better. President of the Section of pupils KPI Janusz Fuchs made a presentation on the Polish-Ukrainian economic cooperation. Based on data from the Ministry of Economy of Poland, he informed that the trade turnover between the two countries in the past year declined, despite the growth of Polish exports to Ukraine. Machinery and chemical products prevailed in Polands exports, and in imports - metallurgical products and mineral products.
XIII Congress of the students of Kyiv Polytechnic Institute, chaired by Paul Vehetsky, held after the seminar. Section Chairman presented the report for 4 years and presented, together with Professor KPI, diplomas signed by the Rector of NTUU"KPI" Academician of NAS of Ukraine Michael Zgurovsky to 12 active members of the Section. Than board of 12 members of the Section was elected. Janusz Fuchs became its chairman.
Every participant received two brochures from the "Memoirs of Kiev: Chronicle of a quarter of a century" - the completion of the period 2010-2014 (Volume XXVIII) with a description of the activities of the Section and the "Chronicle" - the completion of the period 2010-2014 (Volume XXIX) with pictures for 4 years.
In his spare time, participants had an excursion by magical resort Szczawno Zdroj. They also visited the castle Ksionzh, its gardens. Then the participants stayed in Swidnica to become familiar with the church and diocesan Peace church, and from the tower of the town hall to admire the beautiful city.
Janusz Fuchs