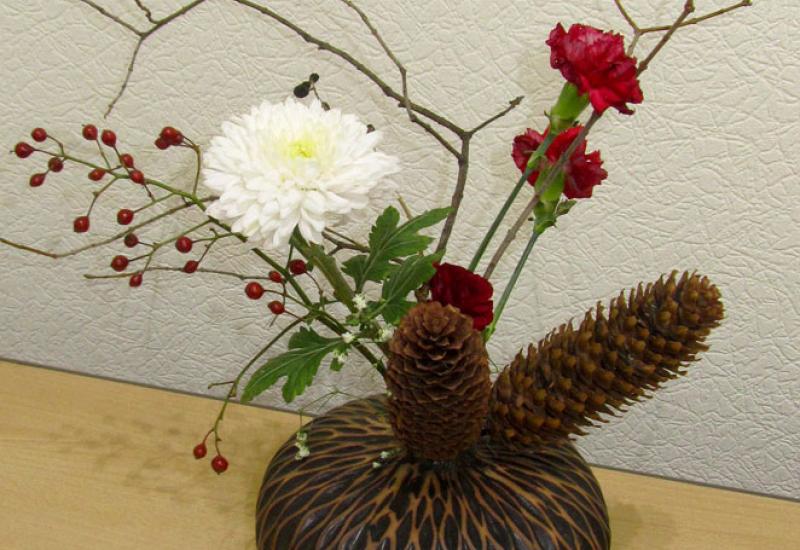 From 8 to 13 December in the exhibition hall of the Japan-Ukrainian Center NTUU "KPI" there was held an exhibition "New year ikebana."
There was here a meeting with a beautiful Japanese art of flower arrangement - ikebana. But this time, along with the traditional compositions in vases there have been exposed also unusual, holiday works.
The exhibition was prepared by teachers and students of ikebana courses of I Ukrainian branch of Ikenobo School, which is led by Professor Angela Lobastov, who came to Kiev from Chisinau. For two days the New Year exhibition was prepared- slowly, each at his own pace, conjured over his work.
... Just a few minutes ago they were just bright Japanese lanterns, and now they have turned into vases, hanging from the ceiling, decorated with pretty flower arrangements, inviting into the hall.
... Immediately opposite the entry – the improvised snowdrift flourished among the winter. A little further on – fir-tree with sparkling lights lures to admire the bizarre bunch.
. From the ceiling in front of entrance there are hanging the willow branches with attached colorful balls and flowers. It's a bit like New Year motibana, by which Japanese decorate their homes: strung on sticks "flowers" of the traditional mochi made from glutinous rice. Motibana is an offering to the deity of the New Year Tosigami, which, according to the Japanese concepts, takes care of revered masters throughout the year.
... Under the ceiling there is a basket with firewood in the Ukrainian style, decorated with aromatic rings of dried tangerine, with branches of spruce, pine cones and different decorations, reminding that the holiday is approaching and it is the time to prepare gifts.
... Composition with bright orange boxes Physalis is made in a two-level weight. This bamboo vase the student made himself for the exhibition.
The exhibition presented all styles of Ikebana: there was here solemn traditional Rikka and slender Seki, lush moribana and pretentious dziyuka (free form) .
Probably, this exhibition did not leave anyone indifferent. Somebody made th pictures of favorite compositions - apparently to make the most similar to the New Year's holiday.
Students and teachers of ikebana happy when creating flower arrangements and are happy when their works can give joy to others.
At present, in the Ukrainian-Japanese center of NTUU "KPI" there are two permanent groups studying art of ikebana. Every year, students and teachers are participating in various exhibitions that take place in Ukraine and Moldova.
Also, once a year the high level professors of ikebana come to Kiev from Japan. They are accompanied by the famous mistress of many traditional Japanese arts, the founder of the Ikenobo school branches Professor So-katoku Ms. Midori Yamada. They carry out the demonstrations and workshops of this wonderful art for Ukrainians.
We invite you to join the beautiful Japanese art of ikebana. Come to us, learn with us! Rejoice work with flowers and giving joy to others!