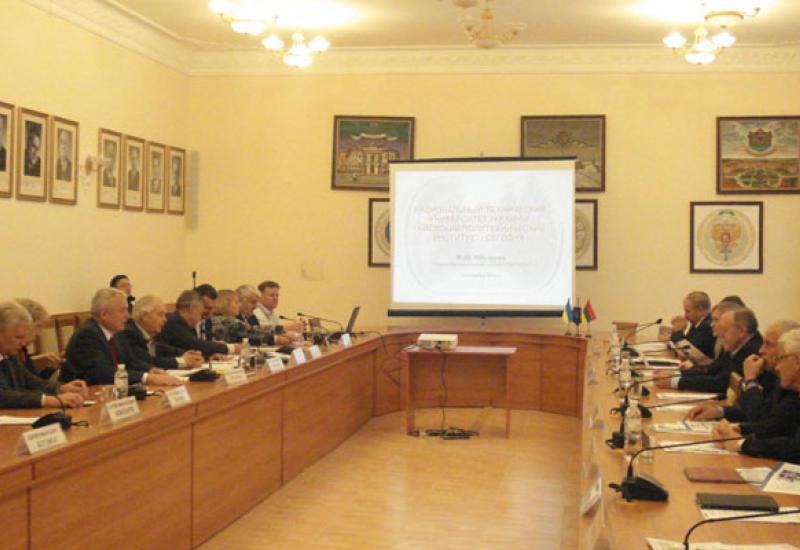 October 24 NTUU "KPI" was attended by a large delegation of representatives of businesses, large enterprises, heads of industry associations and scientific researches of Republic of Lithuania.
The guests met with the university leadership and faculty representatives. During the meeting, Vice-Rector for Research of KPI, NAS of Ukraine academician Mikhail Il'chenko talked about the history and present of the University and the main directions of scientific research, which are held here. Director of Science Park on intellectual property Jaroslav Kologrivov informed members of the delegation about activities of the Scientific Park "Kyiv Polytechnic" and, in particular, on the format and results of the last festival «Sikorsky Challenge 2014". Professor of Chemical Engineering Faculty Mikola Gomel, a coordinator of the program "Clean Water", which is implemented in KPI, made a presentation if this program. Associate Professor of the Institute of Energy Saving and Energy Management NTUU "KPI" Artem Kovalchuk told about the work in the field of sustainable energy development. The cooperation Faculty of Biomedical Engineering with similar organizations of the Republic of Lithuania was discussed in the speech of the Deputy Dean of the Faculty Associate Professor Olga Kiseleva. Participants also discussed the possibility of cooperation between the KPI and business organizations and educational institutions in Lithuania. It was, in particular, the organization of the internship of Kyiv Polytechnics in Lithuanian enterprises, their participation in the Summer Schools, organized by the Lithuanian higher education institutions and the like.
Representatives of business circles of the Republic of Lithuania have acquainted with the university campus, toured the alley of outstanding scientists and engineers, whose life and work has been associated with the university, the monument "The New Prometheus", visited the State Museum of art at NTUU "KPI" and scientific and technical libraries.