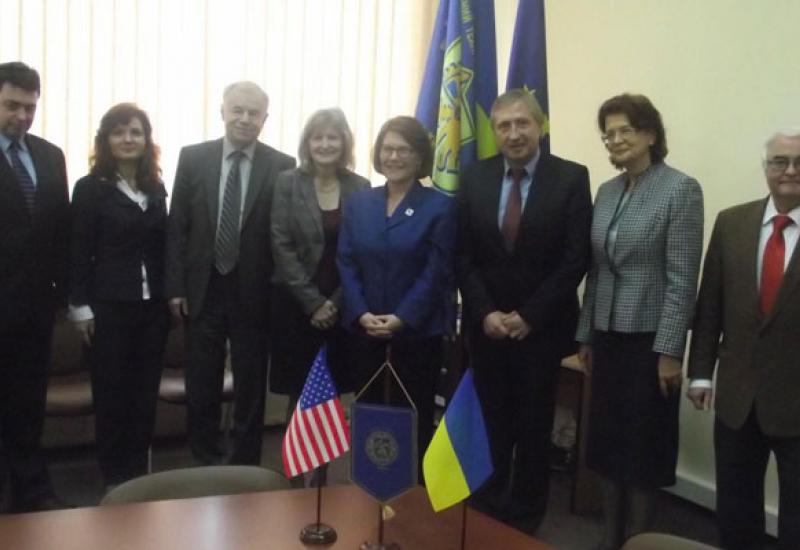 October 20, National Technical University of Ukraine "Kyiv Polytechnic Institute" was visited by the delegation of the Civilian Research and Development Fund of the United States (CRDF Global). The delegation consists of its President and CEO Kathleen Campbell, Director of Institutional Development Marilyn Pfeiffer, a member of the Ukrainian representative office of the Fund Natalia Artyuhovsky and Communications Manager Tatiana Narchinskaya.
The purpose of the visit of representatives of the Fund in Ukraine - to meet with existing and potential partners CRDF Global and together with them to identify the ways in which the organization can help the Ukrainian scientific organizations, to promote the development of scientific and technological entrepreneurship and to support the reform of the higher education system.
The guests discussed with the Rector of the University Academician of NAS of Ukraine Michael Zgurovsky prospects of the development of scientific research in the KPI and university science in Ukraine as a whole. Among the issues that have caused most of their interest - activities of the Scientific Park "Kyiv Polytechnic". Rector informed the representatives of the Foundation on its organizational structure, activities. He said also about just completed festival «Sikorsky Challenge 2014", its finalists and the projects that have got the investments to continue the work. The meeting was attended by the First Vice-Rector of the University, Academician of NAS of Ukraine Yuri Yakimenko and Vice-Rector for International Relations, a member of the National Academy of Sciences of Ukraine Sergey Sidorenko.