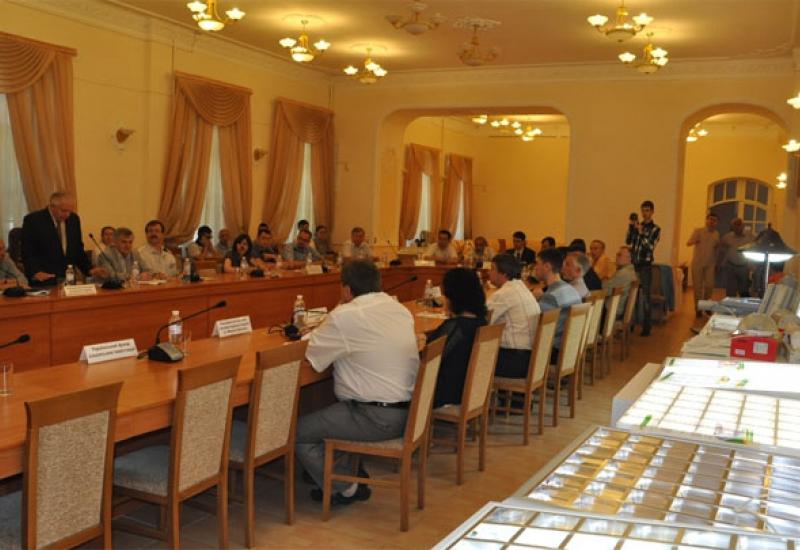 On June 12, 2014 NTUU "KPI" held the seminar "Implementation of LED lighting in universities of Ukraine", the participants were representatives of 22 institutions and organizations - universities, research institutes and enterprises.
The question that was put into the discussion is extremely important because energy efficiency of the light source based on solid-state LEDs is 5-10 times greater than of incandescent bulbs, so their implementation provides significant energy savings. In 2008, the Cabinet of Ministers of Ukraine approved the State scientific and technical program "Development and implementation of energy-saving LED light sources and lighting systems on their basis" for 2009-2013, executed by scientific institutions of NAS of Ukraine, enterprises and educational institutions. KPI also participates in this program - LED lighting is currently installed in 42 out of 66 stream audiences.
The seminar participants were welcomed by the Vice-Rector of NTUU "KPI" for scientific work, member of NAS of Ukraine M.Yu.Ilchenko. A report on scientific, technical and organizational problems faced during the program, was presented by the supervisor, Ph.D., prof. V.M.Sorokin (Institute of Semiconductor of V.Ye.Lashkariov, National Academy of Sciences of Ukraine). Head of the Laboratory of this Institute A.V.Rybalochka told about foundation and possibilities of the Center of testing and diagnosis of semiconductor light sources and lighting systems based on them.
Chief energy manager of NTUU "KPI" O.M. Shevchenko reported on the results of the implementation of lighting systems based on LED light sources at the University. V.H.Martyrosova from the Institute of Occupational Medicine of Ukraine reported on research on the impact of LED lighting on the human body.
Representatives of "CAP Vatra Corporation" - Deputy General Director for STC Ya.Yu.Vovk, Senior Marketing Manager S.O.Matsenko chief designer S.V.Pylypchyk - described the lighting equipment designed and manufactured by "Vatra" and demonstrated LED lights set up at the enterprise.
O.F.Krylach (SRI "Telecommunications"), Yu.Ye.Nikolayenko (TEF), Yu.P.Favorskyy (FEA) made presentations on the research and development made by NTUU "KPI" in the field of LED technology.
Upon completion of the session the participants took a tour around NTUU "KPI" buildings, where LED lights have already been installed.