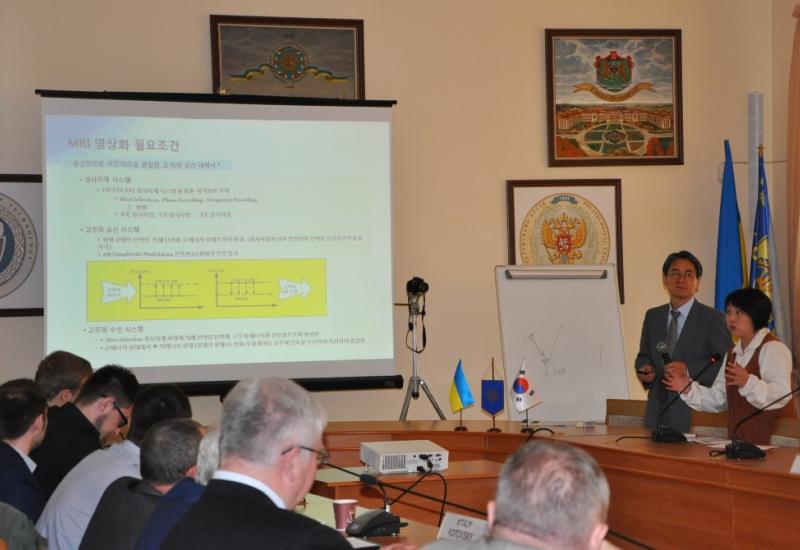 Delegation from South Korean company "Medonica" visited  NTUU "KPI". The delegation included its leading technical specialists and managers.
14 May representatives of the company have read for the students, gradutes and professors of the University the lecture "South Korean experience in development and production of  modern medical equipment". The main lecture aspects were related to working principles of the medical equipment wich is developed and delivered by "Medonica". This equipment includes high quality digital and analogue mobile magnetic resonance tomographs, x-rays machines and other medical devices. In addition guests have familiarized listeners with company activity in production, distribution and sale of medical equipment of other South Korean manufactures and have answered questions from the audience.
The company was founded recently - in 2009. Its main office is located in Seul. The company is developing very swiftly and already has six offices abroad. One of them is opened in Ukraine, second - in Russia, third - in New Zeland, fourth - in Kazakhstan (it operates for Central Asia countries and Caucasus), fifth- in Guinea and sixth - in Hungary. Thus "Medonica" has a good experience in cooperation with other countries. Therefore, the round table "Possibilities of cooperation in mutual development of medical equipment production" was dedicated to problems of cooperative extention.
Moderator of the meeting Rector of Faculty of Biomedical Engineering Vitaly Maximenko said at the beginning: "We appreciate the contribution of South Korea in establishing cooperation in science-technical field and welcome you to our university. Cooperation of the KPI with South Korea started at 2005. We have created united centre of IT-technologies. We have a very interesting large scale joint science conference last year. I hope also that today meeting will be interesting and useful for all its participants."
The work of round table was started with presentation of the Ukrainian-Korean Center of IT-technologies which is working at the University. Round table participants made also presentations of Faculty of Biomedical Engineering, Faculty of Electronics, Faculty of Instrument Design and Engineering, Faculty of Radio Engineering, Project "X-ray tubes on the base of nanocomposite cermet" and designs of medical equipment which are developed at Desigh Department "Storm".
When discussing the presentations, the round table participants found interesting for further cooperation areas and exchanged information on electronic media for further processing and decision making.