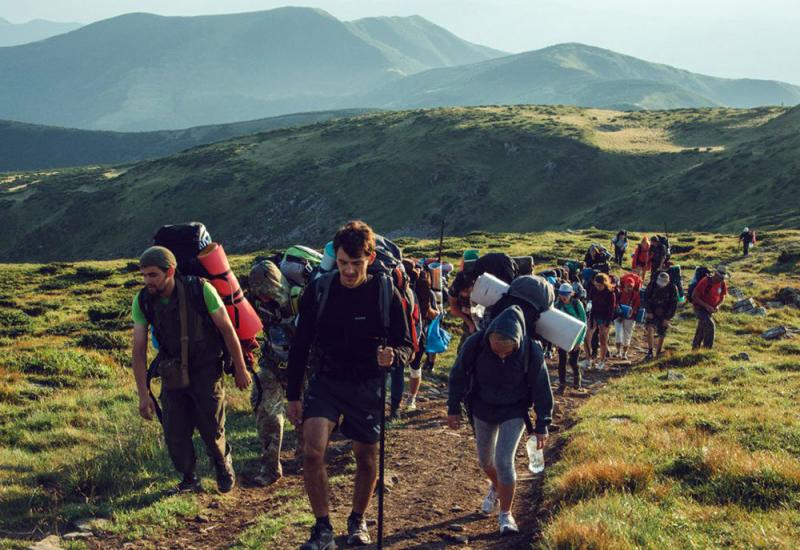 In campus of "KPI" live thousands of students. At leisure time they have the opportunity to participate in numerous educational and cultural and sports-research projects organized by the Social Service Administration of campus. Particularly, one of the centers that promotes a healthy lifestyle and active recreation – is tourist club "Skif". In work young activists combine sport, tourism and military-patriotic events. Experienced instructors that were trained at the "Vremia ne zhdet" of Federation of sports tourism in Ukraine guide the work and have the licence to work in children's and youth tourism.
This year was very busy for tourists, mostly they were attracted by Carpathians. In the spring tourists make a several days-hike by Chornohora from Hoverla and Petros - to Pip Ivan, and even raft on Chornyi Cheremosh ( see on photo). By the way, on the question: at what age children can take part in trips, experienced, confident responsible tourists ­ answered: of any year. For example, together with adults the Goverla were conquered by 4-year-old traveler, frankly speaking, she went down as the passenger (see on photo).
In summer, school program for survival that was made by local rescuers. The polytechnics acquire practical skills of safe hiking in mountains. They were once again convinced how important is physical training, teamworking and orient on results.
Also, our tourists were able to visit a military base in Lviv. They were on the range, got acquainted with the center of demining, even fired from smallweapons. That was interesting trip to the frontier in Dilove village (Zakarpatska region). Students were told about the border every day, "creative" smugglers, detention of criminals and so on, and also was drive to the border.
The club offers hikes of varying complexity and in different directions. In summer tourists traveled to The Rock Dovbush (Carpathian) and to the rocks of Girskyi Tikych in Buky village (Cherkaska region). Mount Parashka (Lvivska region.) were conquered and Korostynivskyi Granite Quarry (Zhytomyrska region), performed technical support and made among polytechnics popular game "Labirynt" in the camp at the Kiev Sea and others. Learn more – at vk.com/skifntuukpi
Having acquired in the class and in the hikings of experience and practical skills to work with carabine equipment, club members with pleasure and benefit of themselves working in city park. Particularly, the "Sky Park" where they have privileges to use the equipment during training and so on.
Club`s curator is a graduate of IME Ivan Brodiak invites everyone to visit the 11th hostel, where the club is gave classes. "Never a dull moment", - said Yegor Tantsiura, head of the club, because we have plans about hiking for the next year: Carpathians, Chornyi Cheremosh, Bilyi Cheremosh etc. Despite the time of year and weather the wilderness is attracted antsy.