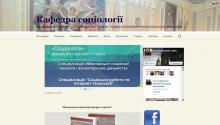 The Department of Sociology is a leading educational and research institution in Ukraine dealing with a variety of pressing social issues and challenges, both local and global. The department's academic staff are deeply engaged in research on the nature and prospects of modernity / modernities as well as modernization. The department faculty have produced studies on the developmental state and its relevance to the European context of modernity and modernization, politics of collective memory, identity politics, conflicts resolution, electoral behavior, and European integration. Department faculty members frequently appear on national and international TV to cover and comment on Ukrainian, European and global politics. The Department of Sociology offers a plethora of courses ranging from traditional subject-matters (e.g. sociological theory, history of ideas, methodology and research methods) to classes providing unique expertise and insight into East European and post-communist affairs including inequity, migration, collective memories, and social movements. The Department of Sociology holds two conferences annually on historical sociology of modernity and regularly hosts globally renowned scholars at conferences and for public lectures. The Department of Sociology offers BA, MA and PhD degrees in Sociology. The Department of Sociology is working closely with national and global employers. Department students participate in various international exchange programs.
The Department of Sociology jointly with the Department of Public Administration have developed innovative undergraduate and graduate programs offering BA and MA degrees in Social Work focusing on international organizations and project management.
The Department of Sociology publishes a scholarly journal "Proceedings of NTUU "KPI": Political Science. Sociology. Law." It is an academic journal in the realms of political science, sociology and law. The journal is being published 4 times a year. Languages of the journal are Ukrainian, Russian and English.
Department of Sociology research is conducted under the rubric of "Societal development, modernization and modernity in a global world"