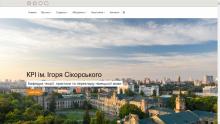 The Department of Theory, Practice and Translation of German was founded in 2000 after the reorganization of the Foreign Languages ​​Department of Linguistics number 2. Head of Department - Assoc., Ph. of Philology Lysenko Helena Lyudvihivna gathered at the Department of CCI German team of highly qualified employees - professors, associate professors, assistant professors, lecturers and graduate students who conscientiously perform their professional duty. Teachers of the department are actively involved in educational and scientific life of Ukraine and Germany, working in international programs, participate in international scientific and methodological seminars and conferences, increase the level of professional and technical training and internships in Germany and in the leading universities of Ukraine.
Priority for the Department is implementing multimedia learning technologies, strengthening the scientific potential of the department by bringing young professionals into research, improve teaching methods and implementing necessary changes according to the Bologna process.
Specialties, which department trains
Bachelor of Philology 6.020303 philology
Specialist 7.02030304 translation
Master 8.02030304 translation
Specialist in "Translation" is preparing to implement different styles of translation and interpreting text types bilateral translation (consecutive and simultaneous) foreign language Ukrainian and Ukrainian language foreign languages ​​to teaching and research activities. The specialist is able to perform professionally-oriented translation and outreach activities in fields related to translation, can work as an interpreter, secretary and interpreter, consultant, employee information and advertising agencies, etc., teacher of foreign languages ​​in universities and researchers."
A specialist is a specialist on security in the broader context of interlingual and intercultural communication in foreign languages ​​in a professional environment, its jurisdiction encompasses a wide range of activities. Securing the process of interlingual oral and written communication in various fields of human life; culture, science, politics, business - by translating different types of texts (texts of official-business style, scientific, technical, socio-political and artistic) and a foreign mother tongue.