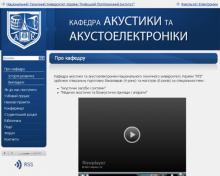 Postal: 03056, Kyiv, Polytechnichna St., 16, Bld. 12, top floor 229.
Phone: +380 44 204 90 72, Fax: +380 44 204 82 94
e-mail: kafedra(at)aae.kpi.ua
The beginning of acoustics development in Ukraine dates from sound cinema appearance and foundation of the Kiev Institute of Cinematography in 1930, which was renamed into the Kiev Institute of Film Engineers (KIFE) in 1935. The department "Acoustics and radio engineering" was created in this institute in 1936, thus the department played a significant role in acoustics development in Ukraine and began vocational training of experts in this area.
Professor Lazar Davydovych Rosenberg, an outstanding scientist, was the founder and the first head of the department (1936-1938). He came to work in KIFE from the Kiev film studio. His successor was Professor Mark Illich Karnovskyi who headed the department for more than forty years (1939-1981). From 1981 to 1987 the department was headed by the Doctor of Physical and Mathematical sciences I.M.Grankin, later Professor Vitalii Semenovych Didkovskyi became the head of the department.