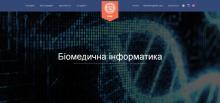 The Department of Biomedical Cybernetics (Medical Cybernetics and Telemedicine) was established at the Faculty of Computer Science in 2001).
In 2003 as a result of cooperation of National Technical University of Ukraine "Kyiv Polytechnic Institute" and the National Medical University of AA Bohomolets based on department activities began Faculty of Biomedical Engineering. Head of the department was appointed Valentin Yatsenko Porfirievich, under whose leadership the first intake of students in 2002. In 2009 he became head of the department heads and still Nastenko Eugene Arnoldovich.
The educational process and scientific researches performed 21 employees, of which 10 people - faculty, 6 - support staff, and 5 individual faculty members working part-time. The department has 3 doctors, 7 candidates of sciences, 3 senior lecturers and 2 assistants without a degree.
The structure of the chair is determined by the number of students, character i amount of educational, technical, scientific, educational work. According to the program for professional training graduates of the department are qualified in the field of knowledge 0501 "Information and Computer Science" in the direction of 6.050101 "Computer Science" degree and 7 (8) .05010101 "Information control systems and technologies."
The plan includes training department wide range of disciplines that allow for substantial knowledge in areas such as science, computer science (including programming, database, web development and others.), Biomedical informatics and data processing. Teaching process is carried out according to the latest techniques, technologies using technical training.
Our training programs are based on the recommendations of the International Association of Computer Science (ACM) and the Institute of Electrical and Electronics Engineers (IEEE) - CS2008 Curriculum Update: The Computing Curricula Computer Science Volume is complete and approved and CC 2010: Curriculum Guidelines for Undergraduate Degree Programs in Computer Science and Computer Science Curricula 2013 (draft). In addition, we consider Ukrainian and global needs and trends of health and educate students according to European standards in the field of Medical and Biological Informatics and Cybernetics.
After graduation, objects of professional specialists are methods of data analysis, modeling, tools for creating, testing and implementation of software, methodology, database development, and others. in various fields of science and technology, including in the health sector. It includes tools to develop information and communication technologies aimed at improving the delivery of therapeutic and diagnostic and preventive care to patients.
Graduates acquire competence software developer and systems analyst, armed with modern information technology. The learning process enables further professional future students not only in IT technology and the development of computer systems but also in health care facilities through the creation process optimization of care.
Research Department staff conducted on a wide range of tasks biomedical cybernetics, including computer support biomedical research, development hardware and software to evaluate the body and ending with information and educational technologies. Studies are under way to create new methods of modeling and classification, the results of which are confirmed by experimental tests on real data provided by the organizations collaborating department.
The atmosphere of scientific research and idea generation, the main of which - practical orientation, constructive, clear understanding of the feasibility of confidence in obtaining effect involves the work of students and young professionals. It provides high quality final works, most of which is protected as "excellent". During the work of the Department, under the direction of profesorsko- vykladatskoho defended three theses.
Department of Biological Cybernetics has been successful for more than 12 years. During this time, more than 300 highly trained specialists in computer technology and simulation in biology and medicine. Department graduates today can be found in academic and educational institutions, enterprises Materialise Ukraine, Epam Systems, GlobalLogic, Samsung and others.