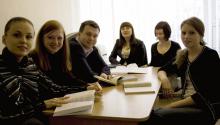 Address: 144-A Borschagovskaya Street , room. 1, the trade union committee of students
phone number. 204-98-54
e-mail: lawyer@studprofkom.kpi.ua
Office Hours: Mon-Fri 16.00 - 18.00
In February, 2010 the Legal Advice Center was established, organized by the trade union committee of students of Igor Sikorsky Kyiv Polytechnic Institute together with the Faculty of Sociology and Law, with the assistance of the legal department of the Kyiv City Union of Education and Science of Ukraine.
Advice and assistance are provided by senior students of the Faculty of Sociology and Law, supported by experienced lecturers-lawyers of the same faculty. If required, lawyers from the city committee of trade unions are involved.
The Centre deals with such problems as tackling issues related to the educational process, housing problems, law enforcement agencies, providing legal services to the law-income sections of the population, ensuring access of students and vulnerable groups of society to legal advice, the formation of legal culture of citizens.
Meanwhile Center will encourage the growth of practical knowledge and skills of students, their professional development, will combine the obtained theoretical knowledge with practical activities, educate students in the spirit of compliance and respect for the rule of law, justice and human dignity and so on.
Center for Legal Advice is not only for students but also for everyone who needs qualified legal help.