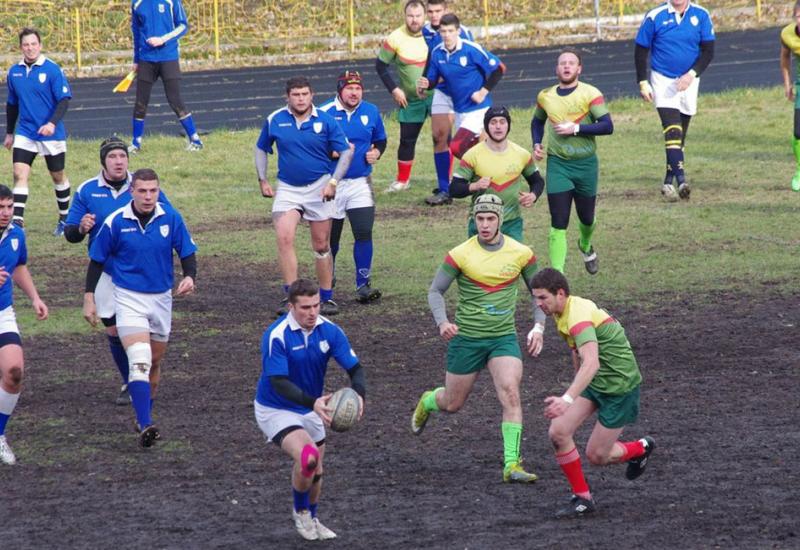 Sports season 2016 for the university rugby team "Polytechnic" come to a close.
The head coach OlegVasyliovych Zalisny returned to the team at the beginning of the year. This specialist has an extensive experience as he previously conditioned the national teams of Ukraine, played for the French Rugby team during five years. He is also five-time Cup winner and Spain champion.
Players who would have complete performances in rugby returned to the team together with the head coach. Season passed with varying success. In May and June a number of team leaders suffered a serious injury that adversely affected the performance of the club as a whole. However Polytechnic tried hard, show courage, unity and broke to the cohort the strongest teams of Ukraine. Further they desperately tried to enter the top three winners, but they got only the fifth place in Rugby 15 and Rugby-7 Ukrainian SuperLeague.
The team potential is very large, the players are experienced and in 2017 they dream to make a gift to all fans and the university as a whole. 2017 is anniversary year because 55 years ago the Ukraine's first Rugby team was created in KPI. Optimism gives us the fact that many students train in rugby section and in the future they became members of youth and major university teams.
This sports season high skills were demonstrated by such rugby players as Bogdan Smiyan (5th year student of TEF), Igor Luchko (5th year student of FAKS), Oleksandr Lazorenko (graduate student of IFF), Oleksandra Oleksandrov (5th year student of FEL), Vasyl Bubnov (3rd year student of IEE), Vazha Suhiashvili (2nd year student of MMI). This year the team was joined by promising 1st year students including Roman Dejneka (HTF), Boris Protsyk (FBT) Artem Ivanov (IFF), Michael Korostylyov (FBMI), Arseniy Kolenchenko (VPI), Yakov Skoblikov (ZF), Vladislav Prokopenko (HTF). High hopes is on "Polytechnic" school pupils, members and candidates of Ukrainian junior team Anton Shashero, Vladislav Zhurylo, John Osaemor and others. As always, led to our Rugby club wins its captain, a graduate of MMI Games Dzyubych.
Master of Sports of Ukraine and Ph.D. of FBMI Oleksandr Sergiyovych Sabirov and Director of Rugby Club "Polytechnic" Master of Sports of Ukraine Anatoliy Kozenko successfully work with students and junior teams.
Recently we get a good news  that Rugby Federation of Ukraine recognized a graduate faculty of Applied Mathematics 24-year-old Andriy Svertoka to be the best judge of Ukraine 2016. He came in rugby in early childhood and devoted 15 years his native rugby club. Andriy fought gold medal champion of Ukraine of junior and youth teams, was the top scorer but the severe injury did not allow him to continue his playing career. But he did not leave rugby sport and began to learn the science of Rugby arbitrator. In 2015, Andriy Svertoka received the title of national category rugby Judge and today he is the best referee of Ukraine.
As he said, the knowledge acquired during the study at the Faculty of Applied Mathematics, extremely help in the sport. Applied mathematics is a mathematical and computer modeling of complex systems, processes and phenomena. Rugby is also an exact science where every athlete movement, each pass of the oval ball, each playing team combination are calculated on many steps forward.
No wonder that  Rugby is the national sport in such developed countries as France, England, Australia, Ireland and others. Our university team got a lot to live up to. We wish success to rugby team the next season!