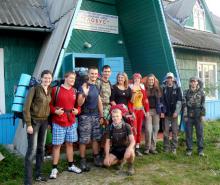 Many of us are concerned with rest. Our duties take away much of our vigor, and besides, it so happens that people need to relax not only physically, but psychologically. Of course, you can always plop down on your comfortable sofa or armchair in front of the TV, and thus spend your entire weekend. But on the other hand, there is always a possibility to make your holidays active, healthy, and most of all – right! This possibility, is, of course, foreseen: the KPI community has, at its disposal, four recreational bases with maximum comforts - "Mayak", "Globus", "Sosnovyi" and "Politehnik", all ready to receive their first guests as soon as the warm season comes. The "Politehnik", by the way, also operates even in winter.
"Mayak" Recreational Complex is situated on the shores of the Black Sea in Lazurne (Kherson oblast', 90 km away from Kherson city proper). Clean sea, bright sun and sandy beaches wait for the Polytechnicians. This is a real seaside resort. You could say it's KPI's own personal Canary Islands! So, pack your stuff – the KPI-"Mayak" train №102 is leaving from Track 1.
"Globus" Mountain Sports Camp is situated in the Ivano-Frankivsk oblast', on the border of the Carpathian National Park, just next to (8 km) Mount Hoverla. No college in Ukraine has another flowery place like this. The magic of the local mountains and treks is undefeatable – it just won't let you go, and the memories of trekking through the mountains will remain in your memory for a long, long time.
"Politehnik" Students' Health Camp – it's simply a great place. Only 40 km from Kyiv (Glibovka, Kyiv oblast'), but you'll find it – the clear air of a pine forest and the neat sandy beach on the shore of the Kyiv Sea. You like your rest active – fine! Football, volleyball, table tennis, billiard – all kinds of sports are at your disposal.
The "Sosnovyi" Recreational Camp is all marvelous shores of the Dnieper, in the homely town of Ukrainka (Kyiv oblast'). Its name is completely correct – the air here is permeated with the tart pine aroma. Deciduous and fruit trees also grow here, simply beautiful when they flower and bloom – you just couldn't get enough of watching them. Oh, and you can catch a gold fish here and make a wish...
All recreational bases without exceptions are open both for the teachers and staff (and their family members) and the students of our Polytechnical. You can book trips both for several days ("Polytehnik" and "Sosnovyi") and for the whole period ("Mayak", "Globus", "Polytehnik" and "Sosnovyi"). Flexible pricing makes resting there available to all. So stick yourselves off your monitors and TVs and head for the KPI relax!
For additional information please refer to: building 1, room. 102; phone: 093-126-60-77, 204-95-88; http://relax.kpi.ua