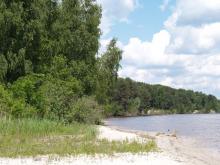 Address: Kiev Sea coast, village Glibovka, district Vyshgorodsky, region Kiev.
Trolleybus number 18 or taxi to Shevchenko square, then bus Kyiv-Sukholuchye to the HSC «Polytechnic»
Health and Sport Camp "Polytechnic" is located in a picturesque corner near the village Glibovka on the banks of the Kiev Sea. Under the green canopy of pine forest there are three-story brick dormitories, a dining room, an office building. The Camp is renovated and improved annually.
For holidaymakers there are here rooms for two or three persons with all conveniences, the fresh air of pine forest, giving cool in the heat and comfort in inclement weather, warm sun and fun splash of Kiev Sea. For tourists there is also a sandy beach, shallow sea that particularly good for children and calms their parents, for boat ride - boats and catamarans. At the base, there are equipped playgrounds for sports games. There is in the main building a sauna.
Guests are provided with three meals a day.