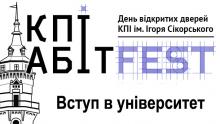 The center of International Education invites foreign citizens for personal consultations during the working hours of CIE or online. Also you have an opportunity to visit KPI Abit Fest.
Would you like to get an education and professional skills and to become an acclaimed specialist?
Are you dreaming about a successful career and job in the leading companies of Ukraine and the whole world?
Then Igor Sikorsky Kiev Polytechnic Institute invites everyone to KPI Abit Fest!
KPI Abit Fest is an updated format of our traditional Open Day, which gives you an opportunity to become acquainted with the university and its life, and also get the answers to the topical questions of the introduction.
At advisory points, visitors can get the information about:
the entry rules of the first level of higher education which is called a bachelor's degree and the second one which is called a magistracy, and also how to get the second higher education;
the preparation for entry;
the choice of the faculty/institute, directions of preparation and specialties;
the preparatory and adaptation courses;
the mobility programs;
the educational opportunities, the peculiarities and additional advantages of studying at the technical institution of higher education.
In addition, an interesting communication with the representatives of the faculties/institutes, departments and scientific and educational centers, a demonstration of technical and scientific developments, useful presentations, the participation at the discussion of the modern technology trends, photographic zones, sweets and souvenirs are waiting for the visitors.
The registration for the current event opens one month before the event.
Follow the news of KPI Abit Fest or or contact the organizing committee:
e-mail: rabota.kpi[at]gmail.com
phone. +38 (044) 204-85-93