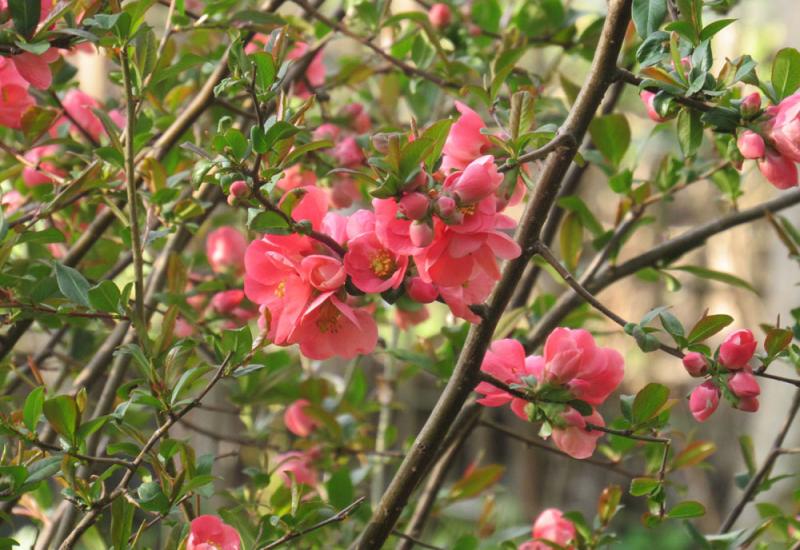 You can ask questions about this plant to TV connoisseurs without hesitation. It is a traditional decoration of gardens and parks. It flames in spring and gives in fall. It generously gives fruits rich in vitamins and trace elements, which are tasty and good in the form of jams and pastels, and promote health and longevity in medicines.
It is japonica, or the Cenomeles, which grows in Igor Sikorsky Kyiv Polytechnic Institute on Museum Square to the right of the E. O. Paton monument. This delicate japonica has been known in Europe for more than 200 years, and only in the last century, it began to be appreciated and cultivated as a fruit and berry culture, they brought varieties with large fruits and non-stalking shoots. Besides, the plant is a wonderful honey plant. Shrubs are well-formed and are suitable for planting in hedges, as well as, due to the powerful root system, to strengthen the soil and prevent their erosion. Individual hybrids are used to grow bonsai. There are about 500 varieties of japonica, but only a small part grows in our latitudes.
The plant is very unpretentious, resistant to drought, grows on any soil, age - up to 60 years, likes the sun and partial shade, it breeds easily and quickly by seeds and layering and, most importantly, blooms profusely and long. In early May, bare branches are covered with red (orange) dense tufts of flowers. They look incredibly pretty (fiery). The fruits appear on of 3-4 years old bushes. They ripen in late September - October. They are tightly arranged along the entire length of shoots, 3-5 cm in size, weighing up to 50-70 g, pear-shaped or apple-shaped, with the aroma of lemon, apple and pineapple, covered with a wax coating, so they remain fresh for a long time. They are very durable, even long gathered, and this probably served the Greek name "Cenomeles", which means "to split an apple". The bushes tolerate weak frost well, but it's better to collect the fruits in advance.
Japonica, also called northern lemon, can be considered a champion among fruits and berries for the content of vitamin C. In some varieties, there is 180 mg per 100 g of product, which is several times more than that of lemon. Even in spring, the content of ascorbic acid in sugared fruits is higher than in imported citrus fruits.
Besides, japonica is rich in carotene, vitamins PP, E, B1, B2, B6, trace elements: potassium, magnesium, copper, zinc, and especially iodine and cobalt, as well as it has no equal in the number of pectins. We also owe the origin of the word "marmalade" to japonica. As the Portuguese word marmelo means nothing but "quince puree". The specific tart taste of the fruit is caused by tannins.
Legends tell that japonica was used to prepare various, including healing dishes at the courts of Japanese and Chinese emperors. It is known as a symbol of fertility and love, it was dedicated to the goddess Venus. In the laws of Solon (one of the "seven wise men" of Ancient Greece), it was recommended to eat on a wedding day so that the newlyweds' lives were as beautiful as the noble quince aroma. It was baked with honey, removing the core. The medicinal use of quince is described in the ancient medical books of the East, Avicenna mentions it in his writings.
And every day we run through the area with bushes with abundant fruits that we think are tasteless, and we do not care about this unpretentious and useful plant - japonica.