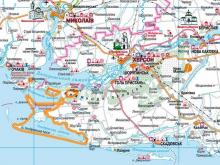 Lazurne (former name - "Sophia park", "Novooleksiyivka") is an urban village in Skadovsk district, Kherson region on the Black Sea, 28 km from the district center Skadovsk, 100 km from Kherson and 80 km from the nearest railway station Brylivka. The highways connect it with all these settlements. Lazurne is a significant climatic seaside recreational center of the Kherson region.
In the south of the village is adjacent to the Black Sea. To the west of the village there the easuary lake Ustrichne, to the east - Dzharylgachsky bay, which is separated from the Black Sea by Dzharylgach Island (on which there is a reserve), the eastern part of which (sand spit) area of about 170 hectares is part of the village council.
The recreation area consists of 273.1 hectares or about 1/3 of the village. Others areas are occupied by the village agricultural land, Skadovsky state forestry and hunting economy, in part, wetlands, small lakes and dry open land. Near Lazurne within a radius of more than 100 kilometers there is no harmful production, making the rest here not only enjoyable, but also useful.
There are in Lazurne more than 30 resorts, lodges and camps. On can get to Kherson by bus or minibus. In the summer they run every half hour. There are almost no tourists in winter, so taxis are serving locals and stopping in neighboring villages, extending trip to Lazurne.