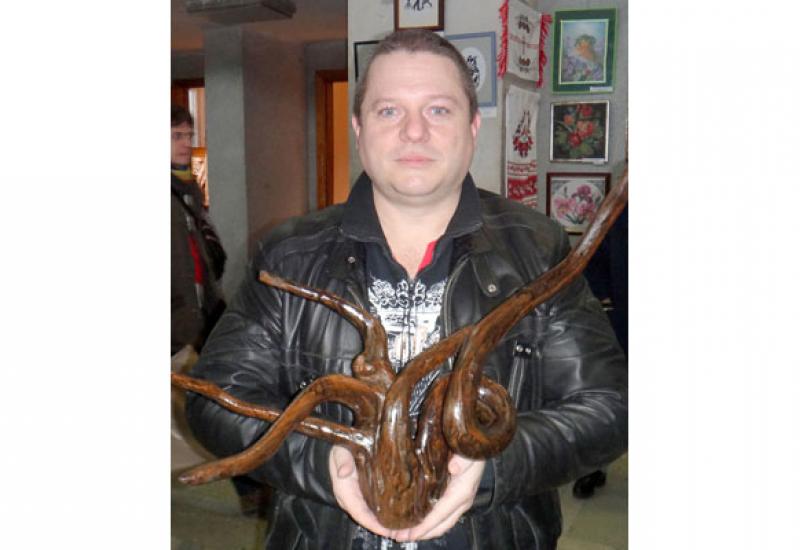 They said that during the sleep our soul travels from one world to another and gives us massages from space. Other thinks that dreams are reflection of everyday life. Each of us, fell asleep, dream about bright and interesting dreams. Besides, people believe in witchcraft and magic, especially for the New Year.
  Children and adults hopes that there are magical creatures, which protect our dreams and looks after their implementation. This creatures can sent us a happy vision. Cute invisible wizards bring happy and enjoy in homes, makes our dreams bright, colorful and pleasant. And they calls Dreams keeper.
  His guardian, Denis Luganov, lecturer of Faculty of descriptive geometry, engineering and computer graphics of FMF, literally dug out of the ground. And in order. We met Denis Konstantinovich on closing of exhibition " Talents of KPI", where his work with coralline "Dreams keeper" was notable. Master said that it was his first embodies idea. Rather, in the first time there was no idea. Simply had a long and boring to uprood old cherry, which grown powerfully in the midst of the garden and her roods were everywhere around the garden. Spent a lot of time and effort, Denis picked up extracted from the bowels creepy roods, which had numerous branches. During the work he stick with it. His look drew some strange figure, which wanted to live.
  Saved off the excess, removed the bark, smoothed out the spikes – and eventually got the workpiece, which is fit to his interior of the apartment. Appointed him responsible for the magic and dream. Delighting the visitors of the exhibition, The Keeper returned home to prepare for wonder of Christmas night , which households expected of him.