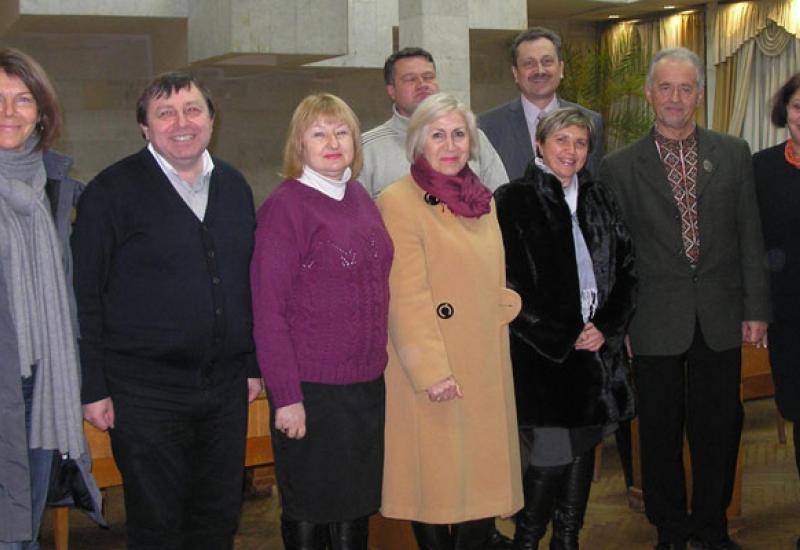 Department of the Ukrainian language, literature and culture of our university is unique, because it is the first of Ukrainian Department of technical universities in Ukraine. It was created in 1989. Since then, the staff of the department provides teaching philological disciplines - Ukrainian language in professional direction, the modern Ukrainian language, history of Ukrainian culture, cultural studies, Introduction to Linguistics, General Linguistics, Basic Editing translation, culture judicial speech. In addition to teaching, employees of the department are actively working in the field of science.
December 10, 2014, the Scientific and Practical Conference "humanitarian grounds of national education in technical schools", dedicated to the the 25th anniversary of the Department was held.  Teachers and students of Kyiv Polytechnics, as well as guests from the Kiev University named after Boris Grinchenko, NEC of  Drahomanov, National Music Academy of Ukraine of P.I. Tchaikovsky participated in it.
The head of the Department Candidate of Philology Helena Petrovna Onufrienko (photo - the first on the right) made a introductory speech. This is a special event of her: since the first days of establishment, she successfully manages the department and she is a direct participant in its formation and development.
Many warm words in their address anniversaries heard from colleagues and friends. The Deputy Dean of the Faculty of Linguistics Oksana Sinekop congratulated the team with the anniversary. Fruitful, joyful labor wished employees of the department known Ukrainian writer, poet, essayist Yuriy Andrukhovych. Full of poetic power and artistic skill was musical  greeting of students and graduates of the National Music Academy of Ukraine of P.I. Tchaikovsky.
After congratulations the scientists presented the results of studies on the problems of linguistics, literary studies, cultural studies, and history. Because the year 2014 has been declared the Year of Taras Shevchenko, the majority of reports were associated with the work of the great Ukrainian. The participants learned about different aspects of the study of creativity famous poet, current trends in rethinking its image, the role of Taras Shevchenko as a phenomenon of Ukrainian culture in the works of George Brandes, Michael Mogilnitsky, Yuri Shevelev. The first-year student of the Faculty of Linguistics Olga Kucherenko  thoroughly and at a high scientific level presented an analysis of the specific features of the mentality of the modern Ukrainian youth.
Scientific and practical conference  became a kind of report on the work of the department for 25 years. This event can be called a meeting place for several generations of scientists, each of whom contributed to the expansion of the humanitarian component in the process of technical training.