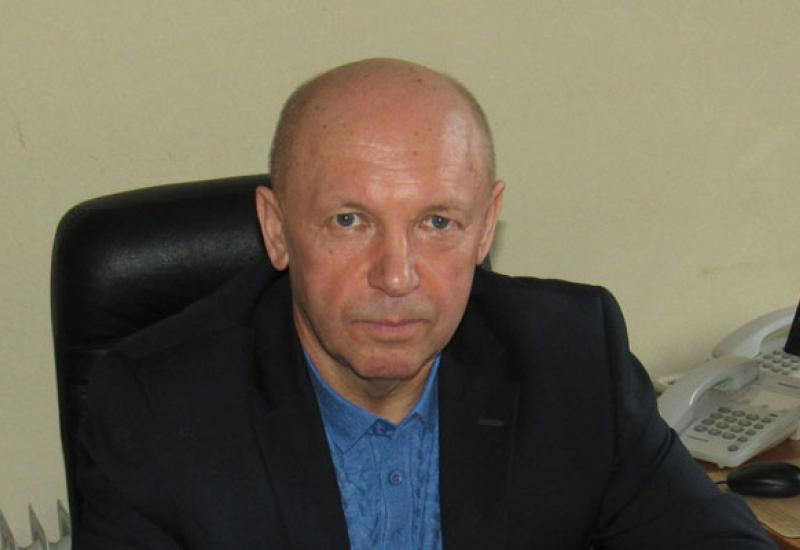 The main task of the department of administrative and economic work it is maintenance of material and technical base NTUU "KPI" an independent state and its further development.
Total area of material and technical base NTUU "KPI" is about 550 thous м2, including educational buildings and objects of economic activity - 408 thous м2 and 146 thous м2 students hostel.
I'll tell you about the results of the department in the following areas: repair work, maintenance of the material base of campus, the cost of utilities, energy, activities of universities transport enterprise,  support of the Center of Physical Education and Sport, obtaining authorization documents.
Repair and restoration work carried out in the absence of adequate funding and shortage of materials. The amount total of funds used in 2015 to carry out repair work on the objects of the University amounted to 15,9 mln UAH (in 2014 – 19,54 mln UAH), including overhaul - 0,43 mln UAH. The money was distributed as follows: civil works - 11,06 mln UAH; sanitary work – 1,7 mln UAH; electrical work - 0,52 mln UAH; landscaping - 0,7 mln UAH; roofing - 1,44 mln UAH; external engineering networks - 0,49 mln UAH.
The cost of repair work, conducted in buildings of University, was 8,8 mln UAH, of which 6,4 mln UAH - a central fund, 2.4 mln UAH - funds units.
Among the units of completed repairs at their own expense, should be noted: FIVT - 582 thous UAH; TSFVS - 472 thous UAH; PL - 801 thous UAH; FAT - 544 thous UAH.
Keeping the material base of students hostels. In campus NTUU  "KPI" are 20 hostels and student clinic; living to over 13,000 students.
During 2015, for the execution of the edict of rector, the campus was organized and implemented a set of measures aimed at improving the living conditions of students. Done overhauls the facade and balconies the 1st hostel; risers number of residential units in hostels № 10, 18; сorridors in hostels № 12, 16; dwelling units in hostels № 17, 20; kitchens in the hostel № 19. Also performed cosmetic repairs living and working rooms, kitchens, shower rooms, sports halls, common areas and corridors.
Partially replaced windows on plastic in hostels № 1, 4, 7, 8, 10 13-16 20. For improve the security situation, installed CCTV system on watch № 17, 21, 22.
Campus took an active part in streamlining recreation "Polytechnic" and "Sosnovyi", which helped organize the bases for the year.
Due to overpopulation hostels significantly increased load on the plumbing and electrical networks hostels, in a very difficult condition is the elevators. In addition, the university has pledged to transfer all hostels on electric stoves because all this necessitates a significant increase in funding for repairs.
In turn, the campus administration pays great attention to careful attitude of students and campus staff to material resources, as well as more efficient use of material and human resources.
Cash flow campus is due to pay for the students living in dormitories. This year, they amounted to 39 849 thous UAH. Balance on 01.01.2015 totaled 24,634 thous UAH. Also in 2015 campus received from the centralized fund of 383 thous UAH to pay salaries to students working in student construction brigades, as well as repairs.
The expenses of the campus in 2015 amounted to 48 401 thous UAH. The main component of total expenditure were: repair work - 5378 thous UAH; purchase of soft and hard inventory - 2030 thous UAH; utilities – 22 985 thous UAH; general running and other expenses - 9584 thous UAH.
The cost of utilities. In 2015 there was a sharp rise in energy tariffs (Table 1).
In 2015 compared to 2014 reduced volumes of heat (to 10.40%) and electricity (by 4.94%), energy, cold water (1.96%), natural gas (40.14%) . But the growth rates has meant that the total cost of energy in 2015 has increased by 42.08% and made up  71.812 mln UAH (in 2014 - 50.443 mln UAH). The cost of electricity has increased by 22.78% and heat energy at 48.75%, cold water at 48.89%, natural gas at 197.27% (Table 2).
In this regard, acute as ever, the question of new technologies that will provide reduced costs for maintenance of buildings.
Heat consumption. Costs for thermal energy consumption in 2015 amounted to 62.32% of the total cost of utilities (in 2014 59.53%). Saving heat compared to the 2014 year in the university is 5255 Gcal. Total heat consumption in 2015 decreased compared to the year 2014 by 10.4%. Terewith 3% reduced heat consumption campus.
Power consumption. Costs for electricity consumed in 2015 accounted for 23.9% of total utility costs in 2014 - 27.65%. Saving electricity at the university is 852 thous KWh or 4.94% compared to 2014 year. Savings energy achieved by most facilities of university. Especially worth noting improvements in the use of electricity campus, costs decreased compared to the year 2014 to 599 thous KWh (or 6.78%) TSFVS - 40 thous KWh (or 6.27%), education case № 19 - 129 thous kWh (or 20,66%), № 30 - 36.07 thous kWh (or 32,34%), № 17 - 30 thous kWh ( or 17,73%), № 35 - 28 thous kWh (or 21.75%).
Water consumption. Consumption of cold water in the whole university declined by nearly 2%. Costs for cold water consumed in 2015 accounted for 13.08% of total utility costs (in 2014 this share was 12.48%).
This year, compared to 2014, water consumption campus increased by 0.7% (6629 m3). In some hostels there was a significant growth. Most of all - in the hostels № 18 (15892 м3 or 15.1%), № 1 (8124 м3 or 23.2%); № 8 (3177 м3, or 8.3%), № 12 (3075 м3 or 10.2%); № 10 (2479 м3, or 3.7%).
Average specific water consumption on campus for 2015 amounted to 68.0 м3/ inhabitant (68.5 м3/ inhabitant in 2014). Administration campus should pay attention to the significant difference in specific energy consumption between hostels and continue activities to identify and address the causes of these deflections.
Energy saving. The Program on Energy Efficiency NTUU "KPI" for 2015 set in the academic buildings 1 331.58 м2 windows in the amount of UAH 2.752 mln (2014 - 1297.93 м2 in the amount of 1.737 mln UAH); in hostels - 874.88 m2 for $ 1, 682 mln UAH (in 2014 - 570 м2 in the amount of 737.732 thous UAH).
In 2015, the continued replacement of incandescent lamps to LED - 1628 pcs. and lamps - 950 pcs., that began in 2014 within the project "Development and implementation of an integrated LED lighting system NTUU " KPI ".
Also in the university established an automated system of control and accounting of electric power (AMR), whose main advantage is the ability to control electricity usage in real time, which enables rapid repairs in case of malfunction of the electricity meters.
Road Transport Enterprise NTUU "KPI" works on the basis of economic calculation. In 2015 received 6,207 mln UAH. Incomes from paid services used for personal needs ATP.
Center of Physical Education and Sports. Academic building number 24 - with a swimming pool, professional gaming halls, classrooms and other target premises - one of the most difficult objects university. Maintain of this economy a safe operating condition annually spent heavily as a centralized fund and fund of TSFVS.
Performance estimates for 2015 amounted to over 4.850 mln (2014: 4.1 mln UAH). All objects in TSFVS completed repair work on 516 thous UAH (in 2014 to 350 thous UAH). In 2015 in TSFVS implemented a number of organizational and technical measures of energy efficiency, ensuring significant savings in energy.
In 2016 planned to carry out the construction of mini stadium in the interior in the yard block № 24 and open playgrounds for mini football, volleyball, basketball.
Obtaining permits. In 2015 NTUU "KPI" received in the State of Architecture- Building inspection Ukraine license on the economic activity of Building IV and V categories of complexity (construction and installation work, installation of utilities). Department of maintenance and operation of elevators NTUU "KPI" received a permit for the operation and maintenance of elevators NTUU "KPI" valid until 2018. department of nergy received a permit for test electric equipment electric power valid until 2019. Service energy management received a conditions in wastewater to sewage system in Kyiv, issued by the Office of Environmental Supervision JSC "AK" Kyivvodocanal. "In 2015 signed a treaty on sharing power grids between" KPI "and JSC" Kyivenergo" which last University shall reimburse 220.910 thous UAH during 2016.
The main tasks for 2016. There will be continued work on the planned renovation and modernization of buildings NTUU "KPI" to increase their efficiency and improve performance. Among these works - the partial replacement of the cable networks, the completion of repair work premises in the building № 4, 9, 15, 18, student clinic, STL; reconstruction and overhaul of electrical power networks and cable; Replacement external me¬rezh water towers at number 2, 18, 19; replacement of external networks of heating buildings № 2, 4-8, 13-16, 22, 28, 31; replacement of domestic water supply in buildings № 1, 2, 5, 12-19, 22, 23, 27, 32; replacement of internal networks, heating in buildings №1, 4-8, 13-19, 22, 23, 28; replacement of internal valves of heat and water that came down in the buildings №1, 2, 4-8, 12-19, 22, 23, 27, 32, NTV and others.
In conclusion, I wish to express gratitude to the staff of the Department and the staffs of the University for constructive work to maintain the property complex of the University of proper operational and technical condition.