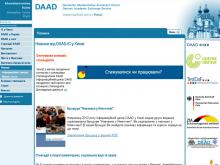 German Academic Exchange Service is an intermediary organization of foreign cultural policy, education and science policy, and the development of cooperation in the field of higher education.
General Directorate of DAAD is located in Bonn, it is the control center of all domestic and international activities of DAAD. Berlin office in the Science forum, which is located at the Gendarmenmarkt, is the second most important representative DAAD in Germany.
Abroad DAAD is presented by a wide network of offices, associate professors and alumni associations, and offers information and advices. Branches and information centers (IC) in the world make contact with partners, as well as effective communication, conducting programs and on-site consultation.
Address: DAAD-IC: 03056, Bldg. 6, r. 31, Peremogy av, 37 (NTUU"KPI"), Kyiv, Ukraine
Head of the DAAD Information Centre in Kyiv: Florian Küchler
Tel. / Fax: (+38044) 406-82-69, Tel.: (+38044) 406-85-41
e-mail: info [at] daad.org.ua
Website: http://www.daad.org.ua
Receiving visitors: Monday - Friday: 11.00 - 13.00 and 14.00 - 17.00
Status and Tasks of the information center:
February 5, 1998 in Kyiv it was signed a "Memorandum of Cooperation between the Ministry of Education and the German Academic Exchange Service (DAAD)", which provides the opening DAAD office in Kyiv. Office began work on April 16, 1998. It is located on the territory of the National Technical University of Ukraine "Kyiv Polytechnic Institute".
The tasks of the office primarily include:
information and advice about the system of higher education in Germany, about the possibilities of training in Germany and scholarships;
organizing and conducting competitions for scholarships DAAD (information delivery applications, consultations, receiving documents, etc.);
maintaining contacts with alumni DAAD (information, an invitation to a meeting of scholars, etc.);
consultation of representatives of the German universities, studying or conducting research in Ukraine;
maintaining contacts with German and Ukrainian universities, faculties and other (eg: information reports in universities, consulting within intercollegiate partnership);
cooperation with the Ministry of Education of Ukraine, the German Embassy and other;
cooperation with other offices of German organizations in the field of education (Institute. Goethe, DSC, etc.);
cooperation with lecturers DAAD, operating in Ukraine.