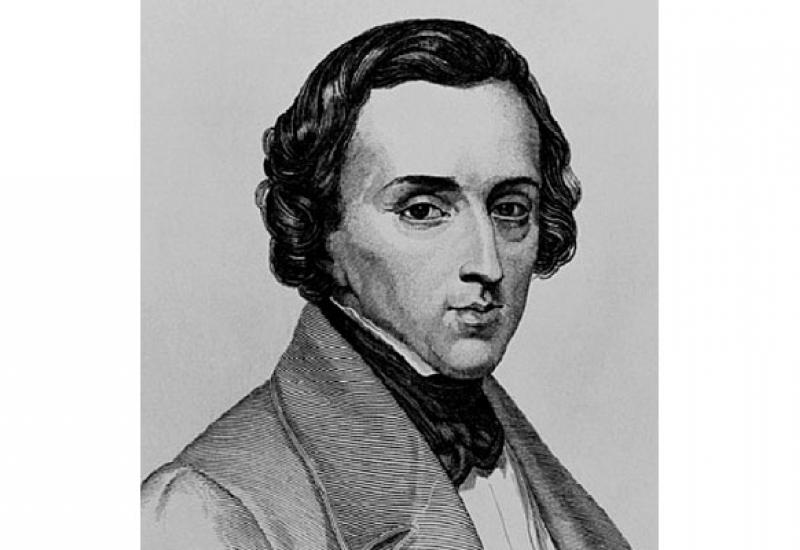 The great Polish composer Frederic Chopin was born on March 1 (Feb. 22, Old Style), 1810 near Warsaw. In the village where he lived as a child and where subsequently often spent his summers, Frederic became interested in folk songs and dances. This fascination made a great influence on his work.
Chopin began studying music rather early. When he was only eight years old, he had already toured and had a lot of popularity in Warsaw. At this time, there were published his first works.
In 1826 Frederick was enrolled int the Conservatory composition class. By the time he was already a virtuoso pianist. Chopin's successes in composition were so expressive that his teacher, the great Polish musician Elsner wrote about the ability of the student: "He is undoubtedly a musical genius."
In the autumn of 1830 the composer went first to Vienna, and soon - in Paris. In the French capital he had to live the rest of his immigrant life, because the Polish uprising in 1831 forever undermined his hopes to return to Warsaw. This forced separation from the homeland was the tragedy of Chopin, and of course, had an impact on his work.
In Paris, the composer quickly gained notoriety. He has toured, he was invited to the Paris salons of the nobility.
Frederic Chopin lived not too long, but very bright life. The few facts from his life we provide below.
- As a child, Fryderyk used to play in the dark. Sitting down at the piano, he would put out the candles. This was the only way the boy could tune in the desired inspiration. This habit he carried through his life. Even playing at a party, Chopin asked to extinguish the light in the room.
- Learning to play, the future virtuoso was very fond of some chords, but his children's fingers still could not take them. Then the boy decided to stretch their fingers and even came up with for this device. It deals quite severe pain. Despite this, the young pianist wore it constantly, without taking off even at night.
- Workers who lived in the house of Chopin, was sure that the boy was crazy. At night, he broke and ran to the piano to play. Later Chopin complained on his health. The great composer suffered from epilepsy. The disease is accompanied by the dreams. Chopin saw dead relatives, and sometimes other spirits that threatened him. In one of his letters he wrote that he saw inside his piano some "damned creatures."
- At age 10, Chopin wrote a march dedicated to the Grand Duke Constantine, which was published, but without the author's name, but several times performed by a military band.
- Known to all work "Dog Waltz" also has been written by Chopin. His beloved George Sand had a dog with which the writer loved to play. Once the woman said that if she could, then she would compose a song about her four-legged friend. Desire sweetheart - the law. Chopin composed a wonderful waltz (opus number 64), which friends and students called "Waltz little dog."
- The composer was very sensitive to the adventure associated with women. So, his engagement was canceled because of a trifle. Chopin was in love with the granddaughter of a famous musician and even thought to marry. But his feelings were tested. Once Frederick came to visit his beloved other. The girl invited a friend of the groom sit down before himself. Outraged, he could not bear such insults and changed his mind to marry.
- Once Chopin answering the question of how the word is defined by the main mood of his music said that in his native language there is such a word - "a pity" (zal). And there it is hidden a whole range of feelings, "the complaint and pity to hatred" from "grief" in "seething in my heart implacable threat" - "regret" colors all works of the composer.
- Chopin got great fame during his lifetime - artists, poets, musicians (Liszt, Schumann, Mendelssohn, Berlioz, Heine, Mickiewicz, Delacroix), publicly expressed their boundless capture of him. Chopin - the main composer in the repertoire of the leading pianists in the world. He was republished by most record companies, his name is called airports, streets, heavenly bodies, music festivals and competitions.
- Ten years Chopin was passionately fond of the French writer George Sand, who had an independent, strong character. Outrageous, a beautiful and talented woman loved to shock the audience (smoking pipe, wore men's clothes and changed lovers faster than handkerchiefs). They met at the Franz Liszt, Sand produced to the gentle, graceful Chopin repulsive image: "What a nasty little woman -  this Sand! And is she the woman at all, I am inclined to doubt!" - He complained to his friend Liszt. Who would have thought that after 10 years, the break with "unpleasant woman" will bring Chopin to the grave.
- Last year life of the composer, shaken with the break with George Sand, could not write music. Chopin letters to friends amazed with a despair: "To worry or to be happy- I am no longer able - quite ceased to feel anything - just vegetate and wait for it to hurry over." November 16, 1848 in London, Frederic Chopin gave his last concert. The only work finished by Frederick before his death, was Mazurka in F Minor, but exhausted experiences and pointed pulmonary disease, he was unable to play it. He only wrote it down on paper, and October 17, 1849 in Paris, at the age of 39 years the great Polish composer, virtuoso pianist, teacher Frederic Francois Chopin died at the hands of his sister Ludwiga.
The world has lost a musical genius - the author of 2 concerts, 3 sonatas, fantasies, 4 ballads and 4 scherzo and countless other musical works.
To say that the music world was in a grief – to say nothing. Music world wept, seeing genius in his last journey. Behind the coffin there walked thousands of people.
And although the body is left on French soil (Pere Lachaise cemetery), the composer's heart was given to his country - it is immured in the tower of the church of the Holy Cross in Warsaw.
In Paris (Monceau Park) in 1906, it was installed a  gentle marble monuments of Frederic Chopin. The composer sits at the piano and plays a funeral march; at his feet weeping girl closes the face in pain, sad angel strews them with the flowers (see. photo).
Chopin's Funeral March is recognized as tops for works of this genre. He took a special place not only in music, but in the whole of human life. According to the musicians, it was impossible to convey the feelings of grief language more than in this march.
100 years at best ballet scenes it is played "Les Shopeniane". The creator of a masterpiece - Mikhail Fokine. 26-year-old choreographer took the five works of Frederic Chopin (polonaise, nocturne, mazurka, tarantella and seventh famous waltz), staged for charity event in St. Petersburg, which took place at the beginning of the last century. At the Bolshoi Theatre under the eternal music of Chopin there captured the audience outstanding artists - Galina Ulanova and Natalia Bessmertnova, Ekaterina Maximova, Lyudmila Semenyaka, Nina Ananiashvili, Maris Liepa, Alexander Godunov and Alexei Fadeechev.
Chopin wrote waltzes during his short life - a genre of one of the most popular in the gentle, sad composer. The first waltz he wrote in 1827, he was 17 years old, and the last two - year before his death.
Boris Pasternak wrote of Chopin: "The importance of Chopin is wider than his music. His work seems to us to its rediscovery."
In the department of socio-economic and fiction Science and Technology Libraryof  G.I.Denisenko NTUU "KPI" (the fifth floor of the library) it is stored a lot of interesting literary and artistic works on the history of life and creative activity of the famous Polish composer. There is a list of publications.
Works devoted to Frederic Chopin in the fund NTB "KPI"
Broshkevich Jerzy. The image of love: the story of the life of Frederic Chopin; Letters Chopin: [trans. with the floor.]. - M.: The Truth, 1989.
I.F. Belza History of Polish musical culture. - M.: Music, 1972.
I.F. Belza Chopin. - M.: Nauka, 1968.
J. Ivashkevich Chopin. - K.: Musical Ukraine, 1989.
Kremlev Y.A. Frederic Chopin: sketch of the life and creativity. - M.: Music, 1971.
Pasternak B.L. - Saratov: Izd Sarat. University Press, 1990.
Solovtsov A.A. Frederic Chopin: Life and Work. - M.: Muzgiz, 1956.
Frederic Chopin, 1810-1849. - M.: Muzgiz, 1961.
Chopin, as we hear. -M.: Music, 1970. - 310 p.
Frederic Chopin, 1810-1849. Letters: [2 v.]. - M.: Music, 1982-1984.
Chopin live in Warsaw, 1810-1830. Fryderyk! Come Back to Warsaw! - Warsaw: [s.l. 2010].
Niewiarowska Barbara. Fryderyk Chopin's Warsaw. - Warsaw: City of Warsaw in 2009.