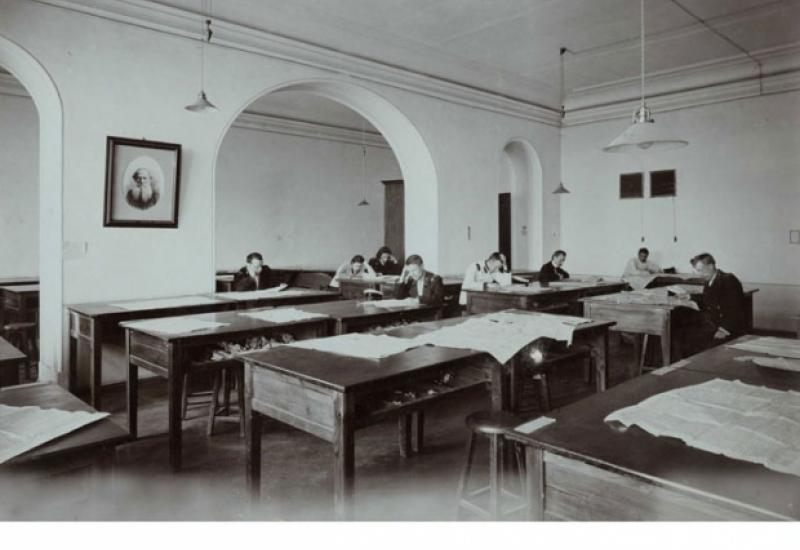 24, October 2017 was the 150th anniversary of Biliashivskyi's birth. Mykola Biliashovskyi (1867-1926) was an academician at National Academy of Sciences of Ukraine, an archaeologist, an art expert, an ethnographer, a museum expert and the forst librarian of the KPI.
Mykola Biliashivskyi was born in Uman, Cherkasy region. His father was a priest. Mykola went to the Kyiv grammar school #2, where historians M. Drahomanov and V. Naumenko, Shevchenko's biographer M. Chalyi and artist I. Soshchenko teached him. He was known for pro-Ukrainian views and numisnatics hobby. Biliashivskyi often visited the museum of the Kyivan Ecclesiastican Academy, so he got interested in museums and joined collecting campaign.
The future scientist studied law at the universities of Kyiv and Novorosiisk (Odesa now). But he also visited lectures on geography, ethnography and anthropology at the university of Moscow.
M. Biliashivskyi dedicated several years to the work ar the archives of the Kingdom of Poland (the Russian Empire). Having discovered a lot of facts, he added them to the Ukrainian history of XVI-XVIII centuries. After he met famous Ukrainian historian M. Hrushevskyi, Mykola helped him with material collecting  for scientific works. Moreover, to the baron F. Steingel's order he arranged the first private museum in Ukraine (Horodok, Volyn region), whose supervisor he was (1985-1916).
Biliashivskyi was also the pioneer of Ukrainian archaeology: during excavations he discovered the ancient city Roden, mentioned in chronicles, on the King's hill near Kaniv, Cherkasy region; he constantly wrote articles at the journal "Kyiv Antiquity"; at his own expense Mykola published "Archaeological Chronicles of South Russia" ("Ukraine" was a taboo word while Russian Empire) - the first scientific periodical concerning historical-cultural property security.
But Antiquities and Arts Museum of Kyiv was his magnum opus, he managed it in 1902-1923. It became a base for nowadays National Art Museum of Ukraine, National Museum of the History of Ukraine and National Fork Art Decorative Museum.
Apart from various vectors of Ukrainian cultural development Mykola Biliashivskyi had been arranging a profound scientific library of the KPI. He actually created a basis for the unique book collection that helps university students and researchers today.
M. Biliashivskyi is known for his letter to V. Kyrpychov in which he asked to employ him as a librarian at newly established Kyiv Polytechnic Institute. He had been working in the library since 1, August 1898 and he did a lot during those 3 years at the position. Biliashivskyi managed to establish relations with foreign publishing offices, book factories; arrange journal department, alphabetic and systematic catalogues; compiled and confirmed the library statute.
According to documents Biliashivskyi's assistant was illiterate, so he might have filled in first stock books. In "K.P.I. L. Journals. 1898-1902. Storage Book of Kyiv Polytechnic Institute Library" it goes about customers and donors of library (professors, lecturers, famous scientists, engineers, non-governmental organisations) in XIX-XX cent.
Currently unique historical materials about establishment of the KPI and the library are retained in the Rare and Valuable Documents Department. The community of an oldest university collection remembers and respects their first director.