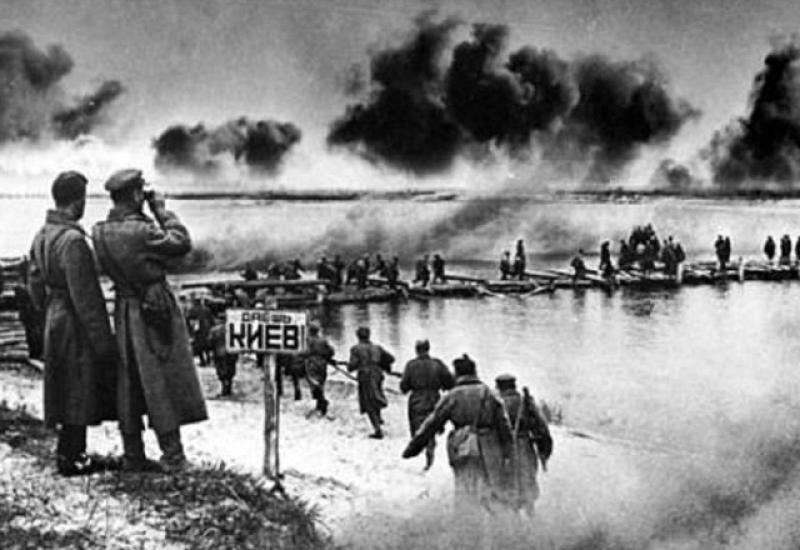 65 years ago, November 6, 1943, the Soviet troops during the Kiev offensive liberated capital of Ukraine from fascist invaders.
In late September 1943 the troops of the 1st Ukrainian Front, commanded by General of the Army M.F.Vatutin capturing bridgeheads on the right bank of the Dnieper, two times (from 12 to 15 and from 21 to 23 October) started an offensive to liberate Kyiv. The main direction of the strike was from the south, Bukrynsky bridgehead, auxiliary - from the north, Lyutizh. But all attempts to break through to Kyiv from the south were unsuccessful.
October 24, 1943 Supreme Command ordered to put the brunt from Lyutizh bridgehead. 3rd Guards Tank Army, commanded by General P.S.Rybalko, others formations and units were secretly moved from Bukrynsky to Lyutizh bridgehead.
To distract the enemy forces, November 1, an offensive from the beachhead Bukrynsky started again. In the morning, November 3, after an artillery barrage from Lyutizh bridgehead main forces of the front launched an offensive. By the evening of the 38th the troops of the army, together with the 5th Guards Tank Corps and part of the 60th Army moved to 5-12 km. November 4-5, 3rd Guards Tank Army has entered in the battle and cut the highway Kyiv-Zhytomyr.
The night of 5 November 6th became critical in the battle for Kyiv. On the highway Brest-Litovsk (now – Peremogy Avenue) tankers captain D.A.Chumachenko broke through in the city. First on the head tank the Guard sergeant M.M.Sholudenko broke in the city. Near the factory "Bolshevik" he was mortally wounded. Posthumously he was awarded the title Hero of the Soviet Union.
On November 6, 0 hours and 30 minutes, a red flag was raised over the building of the CCCP (b) U (Kalinin area).
By four o'clock in the morning on November 6, enemy resistance was broken in Kiev, and at 5 am General M.F.Vatutin reported to the Supreme Commander Stalin that Kyiv is completely freed from the Nazi invaders. On the same day Moscow saluted the heroes of the Battle of Kyiv and Dnipro.
November 7, 1943 at the monument to Taras Shevchenko Kyiv residents held a rally on the occasion of the liberation from Nazi invaders. For courage and heroism during the liberation of Kyiv 17,500 soldiers and commanders were awarded orders and medals, and 668 of them became Heroes of the Soviet Union.
We welcome all veterans of World War II, and especially members fighting for the liberation of Kyiv Professor Vladimir V. Khilchevsky and Alexei V. Bilotskiy of the 65th anniversary of the liberation of Kyiv and wish them all good health, inspiration and pep!