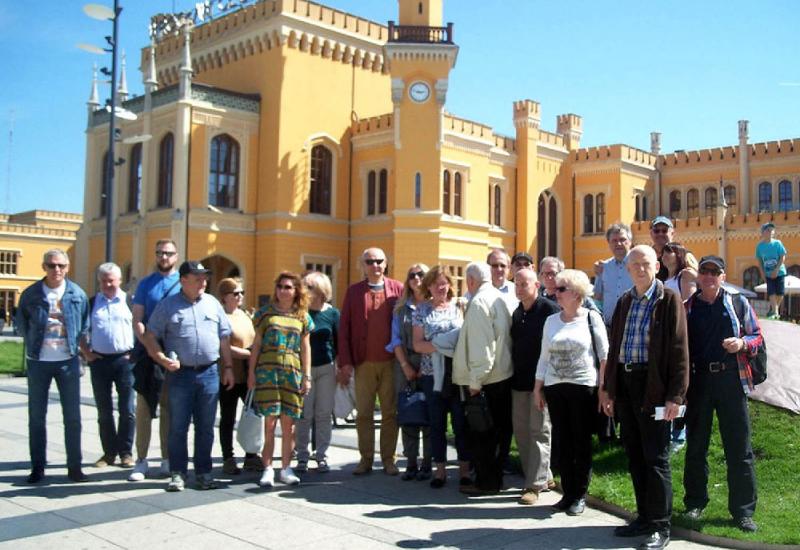 Wroclaw, the third largest city in Poland after Warsaw and Krakow, became Polish-Ukrainian. According to the 2021 census, the population of Wroclaw was 673 thousand people. But if by February 2022, 100,000 Ukrainians lived there, today there are 250,000, that is, more than one third of its inhabitants! In terms of percentage, only the city of Rzeszów received more guests from Ukraine. And in general, the number of residents of Poland increased from 37 to more than 40 million due to Ukrainians in 2022.
I remember a year ago, after February 24, a reception point for refugees was created at Wrocław's main railway station within hours. Part of the halls and the inner balcony of the longest railway station in Poland were turned into a temporary shelter, and tents with hot food appeared on the station square - it was given free of charge to anyone who showed a Ukrainian passport. Volunteers began to distribute everything necessary to the refugees, especially clothes and food in huge premises in three points of the city. Temporary hotels were organized in vacant premises of student dormitories, schools and hospitals. All this began to work thanks to volunteers, among whom there were many Ukrainian women who had arrived in the city earlier. When the Polish government made the necessary decisions, Ukrainian refugees, primarily mothers with children, also received financial support.
A year later, I often hear the Ukrainian language on Wrocław trams, and see Ukrainian staff in large stores. Polish language courses are organized (my daughter, by the way, gave a cycle of 12 classes for a group of women and their children). Administrative assistance is provided to Ukrainians by the Consulate General of Ukraine, which was established a month before the start of the full-scale war. The Center of Ukrainian Culture and Development was founded in the city, which last year organized more than 600 events attended by 17,000 people.
Ukrainian students study at Wrocław state universities: 532 students study at the University of Wroclaw, 416 at the Wrocław University of Science and Technology, 212 students are at the Wroclaw University of Economics and Business, 87 at the Wroclaw Medical University. They primarily study informatics, management, economics, and medicine. Wrocław institutions of higher education cooperate with Ukrainian ones, especially with Lviv.
Many Ukrainian companies have appeared in the city business. There are shops with Ukrainian goods, for example, "Best Market" on Shevska Street, "Babusia" on Kołłątaj Street, "Meat Projekt" on Piastowska Street, "Odesa Market" on Nowowiejska Street or "Ukrainian taste" on Komandorska (here I occasionally buy an original Kyiv cake or Kyiv-made sweets for my grandchildren). There are Ukrainian restaurants and bars, for example "Paloma" on Solny Square, "Dobro&Dobro" cafe on Kuznicza Street, " Pijana Wiśnia " on Rynek Street (you can even taste Lviv cherry tincture there), there is a restaurant "Lviv" on Legnicka Street with pelmeni which are loved by the townspeople, "Kozatska Hatka" on Energetyczna Street, "Zhytomyr Bar" on Zatorska, "Izi Bistro" on Wielka Street and "Three Sisters" on Zheromsky Street. You can meet not only Ukrainians and Poles in these establishments, but also many tourists from the West, who are increasingly coming to our ancient city (5.8 million guests visited Wrocław last year).
Ukrainian business in Wroclaw does not forget its responsibilities to the Motherland. Owners of commercial establishments finance humanitarian cargoes that are sent to Ukraine every week. They send what is needed to internally displaced persons in Lviv, but part of the aid also goes to the front-line zone of Donbas. Only the UANITED Foundation, which was created by three Ukrainian guys, has shipped 900 tons of various things to Ukraine since March last year (that's about 80 large vehicles), including a lot of clothes, and recently - current generators. Also, tents for the Points of Invincibility were delivered to Ukraine; that was mainly the merit of Wroclaw public organizations.
Wroclaw is not the only point on the map of Polish aid to Ukraine. There are many such cities. Graduates of the Igor Sikorsky Kyiv Polytechnic Institute do not stay on the sidelines of volunteer activities. We talked about that, among other things, at last year's seminar in Wroclaw, in which Viktor Korzh, Professor of the Igor Sikorsky Kyiv Polytechnic Institute, took part. This year, at the seminar in May, we plan to summarize our work in this direction.
The last war year has changed us. It took away illusions, reduced credulity and carelessness, but did not overcome our cordiality, friendliness, sincerity, compassion, ability to empathize and willingness to give the shirt off your back - I completely share this opinion of the Ukrainian writer Serhii Zhadan.