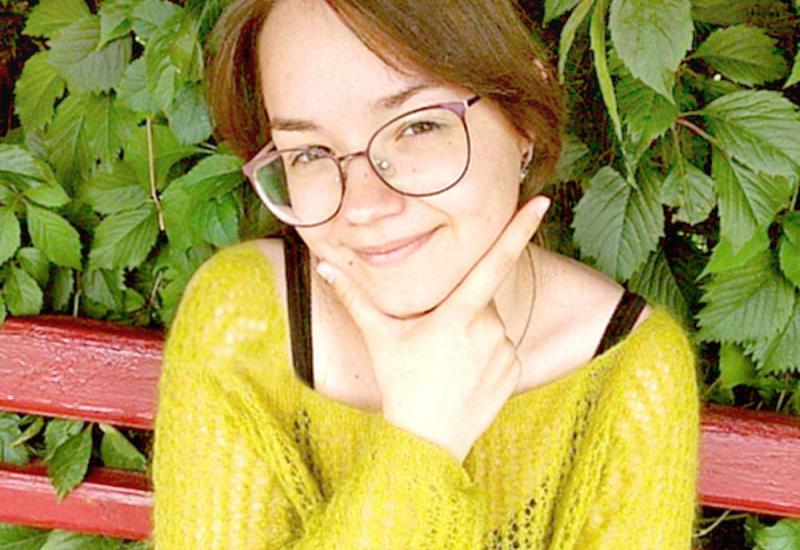 The third-year student of the Institute for Applied System Analysis, Anna Chemanova, will receive a scholarship from Monobank of Universal Bank JSC (the "CEO for 1-day" project). The student will get UAH 5,000   according to the best results of the winter semester control (average score 100).  Anna Chemanova loves and knows how to learn.
Anna graduated with honors from a specialized school with an in-depth study of mathematics in the Desnianskyi district of Kyiv.  She was a prize-winner of the school district and city Olympiads. She also took part in the All-Ukrainian competition-defense of research works of students-members of the Junior Academy of Sciences of Ukraine in Kyiv. Anna also participated in the competition "Ombudsman" in the nomination "Public Relations".
 'I was in high school when I realized that I would like to connect my professional life with mathematics and economics. I focused on these subjects when choosing a faculty,' says the student.  I have scanned a large number of articles on websites and telegram channels.  But it was Igor Sikorsky Kyiv Polytechnic Institute where I found the faculty that attracted me the most. The IASA is a unique department whose graduates work in various fields - science, analytics, consulting, IT business, etc. The IASA gives every piece of knowledge you need in a modern methodology of systems analysis for in-depth financial markets analysis. Students, for instance, develop mathematical models, estimate forecasts, make management decisions, create and develop projects, use advanced tools and technologies in the activities of enterprises and organizations. These are the data studied by students of the Institute for Applied System Analysis.  These are the reasons why I chose the IASA.'
Unlike many of her peers, Anna interprets learning success in her way, 'When they talk about the academic success, they always mention the ranking score, winning Olympiads or participating in conferences. Yet I think, learning success is the knowledge gained at University.  Among the components of my success, of course, is teachers' contribution - their professionalism and knowledge of their subject have always inspired me and supported the desire to learn something new every day and study more.'
After the transition to distance learning, students had some difficulties.  Even though the IASA provides a good connection between teachers and students, it still lacks live communication and interaction. 'Igor Sikorsky Kyiv Polytechnic Institute is not just lectures, tests, and laboratory work. It's the atmosphere, architecture, people, communication, and events of the University. Distance learning doesn't fit.'
Mathematics has been the girl's favorite subject since school.  At the University she enjoys all the disciplines.  All of them are amazing, mostly dissimilar, offering unprecedented approaches, tasks, and solutions.  Anna will never forget mathematical analysis, linear algebra, discrete mathematics, and functional analysis.
Like any student, Anna hopes to find her favorite job. The job she could and would like to do in the future and the one that would bring not only material prosperity but also satisfaction and opportunities for self-development.
At the University, the student met many charismatic people with diverse interests and full life. She has found friends who are ready to support and help.  Free time, as always, is not enough. Still, Anna has many hobbies, for instance, swimming, table tennis, meetings with friends, reading books, watching movies. The young girl also likes to create ornamental stuff.
Anna has a lot of fascinating and tough moments ahead.  A journey of a thousand miles begins with a single step.