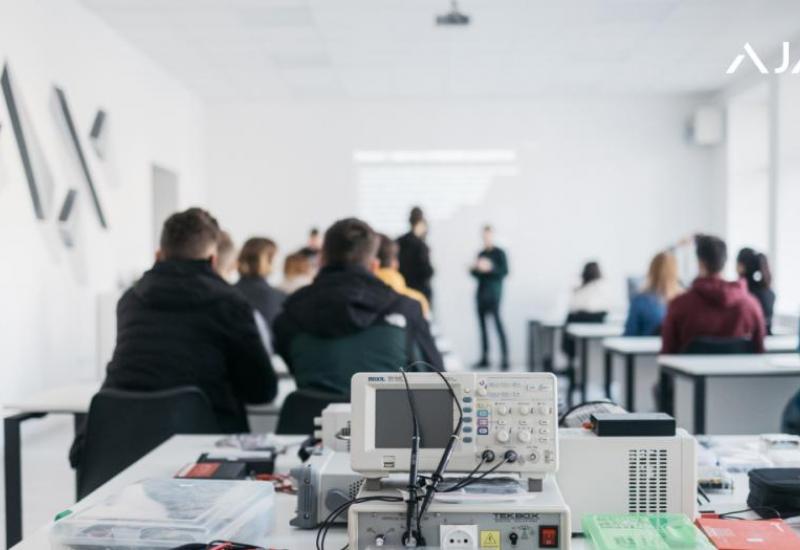 A new educational and scientific laboratory of electronic wireless security systems Ajax Systems has started working at the Department of Acoustic and Multimedia Electronic Systems of the Faculty of Electronics of Kyiv Polytechnic. The idea and implementation of the project belongs to the founder of Ajax Systems Oleksandr Konotop. The former student of Igor Sikorsky Kyiv Polytechnic Institute, as well as a significant part of the company's specialists, having achieved success in business, decided to thank the alma mater not only material but also educational and scientific resources:
"Our company was born thanks to talented engineers brought up by a Ukrainian engineering school. Our whole future is about people - you have to invest in people, then they quickly become cool professionals. And this is our social responsibility, which runs a red line through our business. My team and I decided that we wanted to bring to the universities the technologies that are now available to our company. Here is the equipment that Ajax Systems uses to develop electronics. We are sure: the sooner students are immersed in a real-world development environment, the more successful their careers will be in the future. "
Igor Sikorsky Kyiv Polytechnic Institute rector Michael Zgurovsky during the opening of the laboratory noted that Ajax Systems, investing in human capital, demonstrates a qualitatively new modern approach used in developed countries:
"The philosophy of Ajax Systems should be an important example for many other representatives of modern business, especially those who studied with us. Then the university will rise quickly and the graduates who leave here will be more successful and the country's economy will become stronger. We will try our best to get you the best specialists, because your success in your markets is the success of Ukraine's economy. "
In addition to technical equipment, Ajax Systems specialists provided training programs developed as part of the dual form of higher education. Head of the Department AMES FEL Sergii Naida said that the courses will be taught jointly by the department and Ajax Systems:
"Applicants for a double degree, bachelors and masters, will have the opportunity to study in two certificate programs: "Electronic wireless security systems and Internet of Things" and "Software and hardware systems for the protection of premises." In total, this is 1,500 hours of training. "
The founders of Ajax Systems plan to equip modern laboratories at other faculties of Igor Sikorsky Kyiv Polytechnic Institute and create an Internet of Things competence center, accessible to all students involved in electronics, with low-level and high-level programming.
Reference: Ajax Systems is an international technology company that develops wireless security systems. Has its own full cycle production. The head office and production facilities are located in Ukraine. For five years now, the company has seen a multiple increase in both the number of teams and the number of users worldwide.