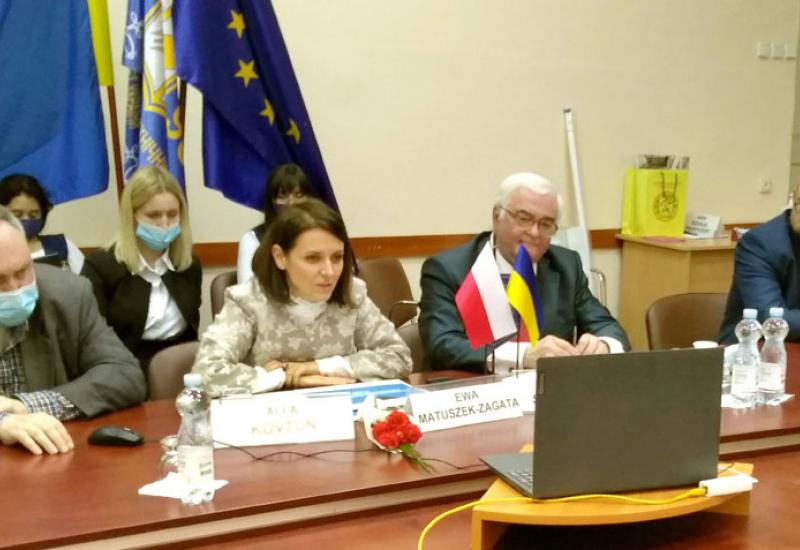 One of the main directions for developing Igor Sikorsky Kyiv Polytechnic Institute in the coming years should be education and research internationalization. New life challenges call for changes, so internationalization in learning and research is part of the University Strategic Plan for 2025. A tool for such internationalization is more frequent participation by faculties and institutes in international programs and projects, including bilateral. The projects should include those University partners, cooperation with which has already proved its effectiveness. No doubt, Polish high education institutions, and research organizations are among the most reliable.
On 4 March 2021, Head of the abstract on science and education of the Embassy of Poland Republic Eva Matuszek-Zagata visited Igor Sikorsky Kyiv Polytechnic Institute. Vice-Rector for International Relations, Serhiy Sydorenko, Head of the Organizing Office of International Activities Alla Kovtun, Head of Foreign Economic Activity Office Andrii Shysholin, Deputy Director of the Ukrainian-Polish Center at NTUU "KPI" Hanna Bidniuk, and others held a working meeting with Eva Matuszek-Zagata (in the center of the photo). They discussed opportunities for cooperation between Igor Sikorsky Kyiv Polytechnic Institute and Polish high education institutions and research organizations. The meeting participants also considered the launch of new contacts and expanding partnerships in various forms.
However, most of the parties could see each other only on computer monitors, because the meeting was partly online. Eva Matuszek-Zagata was not the only Polish delegate. Mateusz Bialas, Acting Director of the Representative Office of the Polish Academy of Sciences in Kyiv, and Agata Bader, Head of the Unit for Bilateral Cooperation at the NAWA Polish National Agency for Academic Exchange, also took part in the online meeting. Among the Ukrainian delegates were Deputy Deans of Faculties and Directors of Institutes of Igor Sikorsky Kyiv Polytechnic Institute.
Eva Matuszek-Zagata informed the online conference participants on different grant programs of the Government of Poland accessible to Igor Sikorsky Kyiv Polytechnic Institute. Also, Agata Bader told about the promising directions of cooperation and bilateral exchanges between Ukrainian scholars and their Polish colleagues. Mateusz Bialas gave information on international projects implemented within the Polish Academy of Sciences research activities and the possibilities of involving Igor Sikorsky Kyiv Polytechnic Institute scientists.
'Cooperation with Poland as one of our nearest partners in different projects and grant receiving activity is significant. We have already provided the foundation for cooperating with Polish universities and the Polish Academy of Sciences. Over many years, traditions of our cooperation have been raised. And in our opinion, that our Polish colleagues shares, the time has come to make a new step in developing common ground with Polish partners. Since the Embassy of the Republic of Poland in Ukraine also shares this view, Eva Matuszek-Zagata visited our University. Also, a meeting with the Polish Academy of Sciences and the Polish National Agency for Academic Exchange (NAWA) was organized,' resulted from the meeting Serhiy Sydorenko. 'All information concerning cooperation with Poland discussed today will be carefully written. Then, we get to work on details of cooperation together with Vice-Rector for Scientific Affairs Vitalii Pasichnyk, Vice-Rector for Academic Affairs Anatolii Melnychenko, Vice-Rector for Student Affairs Natalia Seminska.' Serhiy Sydorenko also added that enhanced cooperation with Poland concerns not only the Department of International Activities but all the University departments. The concept of the internationalization of Igor Sikorsky Kyiv Polytechnic Institute involves an increase of the international component in the work of all university units, and firstly - faculties and institutes.