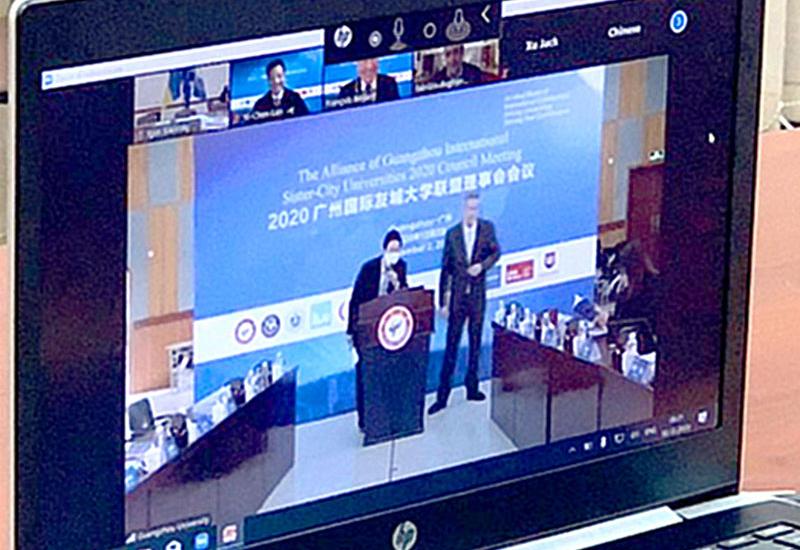 On December 2, 2020 Igor Sikorsky Kyiv Polytechnic Institute received another reason to be proud of its achievements in international cooperation. At the online ceremony, with participation of world-class higher education institutions (Western Sydney University, Guangzhou University, the University of Padua and others), our University officially joined the Alliance of Guangzhou International Sister-City Universities (GISU).
'We are proud that Igor Sikorsky Kyiv Polytechnic Institute becomes part of the distinguished association of leading universities,' said Serhiy Sydorenko, Vice-Rector for International Relations, and Corresponding Member of the National Academy of Sciences of Ukraine. 'Previously, we cooperated with Chinese universities in the framework of 59 agreements and had good results. Now our University is running several international centers and developing a new Ukrainian-Chinese Center for Engineering Innovation, Sino-Ukrainian Joint Space Science Laboratory, and Huawei Academy of Information and Network Technologies, Confucius Institute and other institutions. I have no doubt that our cooperation within the Alliance will create synergies in a deep internationalization of member universities!'
Olga Demydenko, Head of Academic Mobility Office of the Department for Student Affairs, and Andrii Shysholin, Head of the Department of Foreign Economic Affairs of the Department of International Cooperation represented Igor Sikorsky Kyiv Polytechnic Institute at the meeting.
During the online conference the GISU members discussed developing of the Digital Academy, the Venture Makers program, which is aimed at creating a new large-scale platform for entrepreneurship education, and introducing of an additional online course of traditional Chinese medicine and many others.
Significance ideas and proposals discussed and adopted during the international meeting, together with the joint work of the two departments of our University give great hopes for success of a new initiative for developing members of the Alliance, and strengthen beneficial and productive cooperation with international partners.