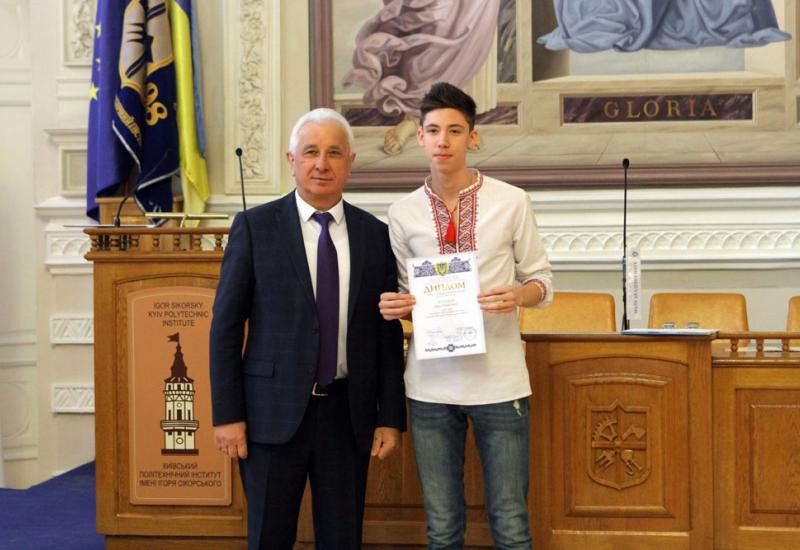 Today, in the hall of KPI Academic Council the laureates were awarded diplomas of the Ukrainian Presidential Scholarship. 270 scholars receive the monthly payment of UAH 2,600 every year. The winners were greeted by Anna Novosad, the head of the Ministry of Education and Science of Ukraine.
«None of you know for sure how winning the Junior Academy of Sciences competition can help you in the future. Undoubtedly, not all of you will continue your scientific work, but, patently, one way or another it will help you in life, help to pursue your own career, to make your educational path» emphasized the Minister. She promised that the government would make efforts to provide each scholar with the opportunity to continue a scientific career here and have all the conditions to be integrated into the international context. 
Michael Zgurovsky, the rector of Igor Sikorsky Kyiv Polytechnic Institute, also addressed to the scholars with felicitations. 
"On behalf of the Kyiv polytechnic students, let me congratulate you on such a significant achievement in your life. I am convinced that there will be many other attainments ahead. We, students of Kyiv Polytechnic Institute, are very interested in searching for young people who feel an inclination for natural, engineering knowledge, and especially for creating something new. So, many designers, engineers, and scientists, who studied within the walls of the KPI, changed the world" Mykhailo Zgurovsky said. According to him, about 150 graduates of the Junior Academy of Sciences enter the KPI every year, usually, they are winners of the Ukrainian Presidential scholarship competition. Many of them become successful startuppers. 
The scholars were 150 winners of the All-Ukrainian Student Olympiad in scientific subjects and 120 winners of the All-Ukrainian Competition of Scientific-Research Works of students who all are members of the Junior Academy of Sciences of Ukraine. 47 children were awarded for the second time, five ones for the third time. Alexey Masalitin, the student of the 11th form of the Novopecherska School in Kyiv, became the winner of scholarship for the fourth time. 
Among the scholars of the Presidential Scholarship are 15 KPI students. They won the competition, studying at school, and now they are freshmen of Kyiv Polytechnic Institute.
The list of winners:
Dmytro Burdenko
Maksym Viskunov
Henrikh Titov
Adam Smerechuk
Andriy Shevtsov
Stanislav Khalimonov
Artem Denysyuk
Yehor Borysenko
Mykyta Nyekhoroshykh
Alina Misnik
Mark Zehelman
Polina Kozarovytska
Roman Sukhanevych
Mykhaylo Komashnya
Dmytro Uryn