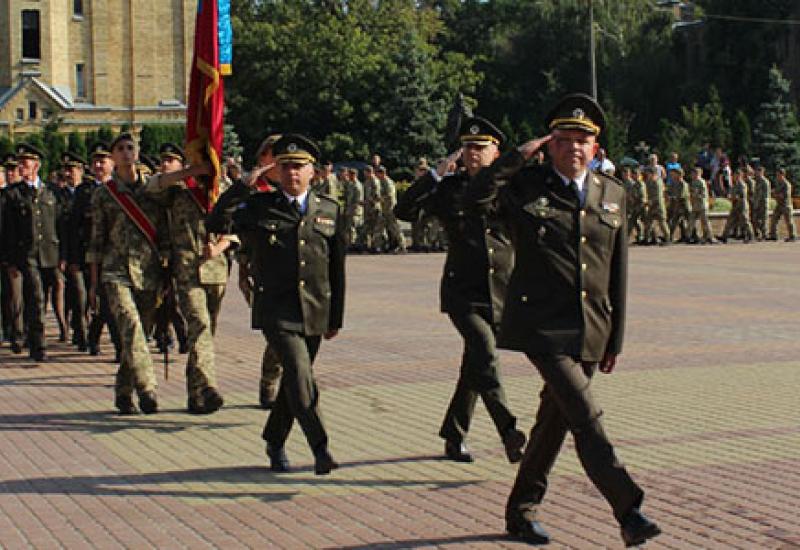 Dear veterans and current defenders of the Motherland! Dear polytechnicians! In October 14th, the state celebrates the Day of Defender of Ukraine – a holiday of memory of our proud ancestors, who at the cost of their lives fought for the right to independence for their native country; a holiday to honor Cossack's courage and their victories; a holiday of gratitude to veterans of World War II who defended their land. Finally, it is a day of all heroes of today, who bravely defend the boarders, of all those who gave their lives in the East of the country for sovereignty and unity of Ukraine.
We bow our heads in memory of the heroes who died in the fight for Ukraine's peaceful future. An eternal memory of the soldiers who died in the fight for a free, independent Ukraine. 
Eternal glory to the heroes – polytechnicians who with their sacrifice gave us the opportunity to learn, create and work: S. Bondarev, P. Mazurenko, Y. Popravka, M. Shapoval, I. Pavlov, O. Petryshchuk, V. Kochetkov-Sukach, I. Shevchenko, V. Diusov, A. Yeremenko, Y. Artiukh, V. Zherebylo, O. Kondratiuk and M. Fedorenko.
Eternal memory and glory to the Heroes!
A low bow to their families!
Since March 2014, 36 employees have been mobilized in defense of the Motherland to the ranks of the Armed Forces of Ukraine and more than three hundred graduates of our university of recent years have volunteered to the front. 38 students – participants of ATO and JFO (Joint Forces Operation) are studying at the Igor Sikorsky Kyiv Polytechnic Institute.
Defender of Ukraine Day is a nationwide holiday of unbowed, conscious citizens who provide economic, humanitarian, educational and information protection of the state through their professional, teaching, scientific, social activities, diligent work and study, volunteer work.
Polytechnicians provide comprehensive assistance to the Armed Forces of Ukraine. Teachers and students are involved in numerous programs to develop the latest weapons and military equipment, remedies for soldiers on the battlefield.  
Dear polytechnicians!
Let patriotism, fortitude and unwavering faith in the happy future of our homeland give all of us the strength and inspiration to fulfill our future hopes and work achievements.
And let all of our defenders, who are now in the trenches, be protected by the Protection of the Holy Virgin, the heavenly saint patron of out army.
Peace, goodness and prosperity to our country!
Glory to our defenders!
Glory to Ukraine!
With respect and gratitude, M. Z. Zgurovsky, the rector of the Igor Sikorsky Kyiv Polytechnic Institute.