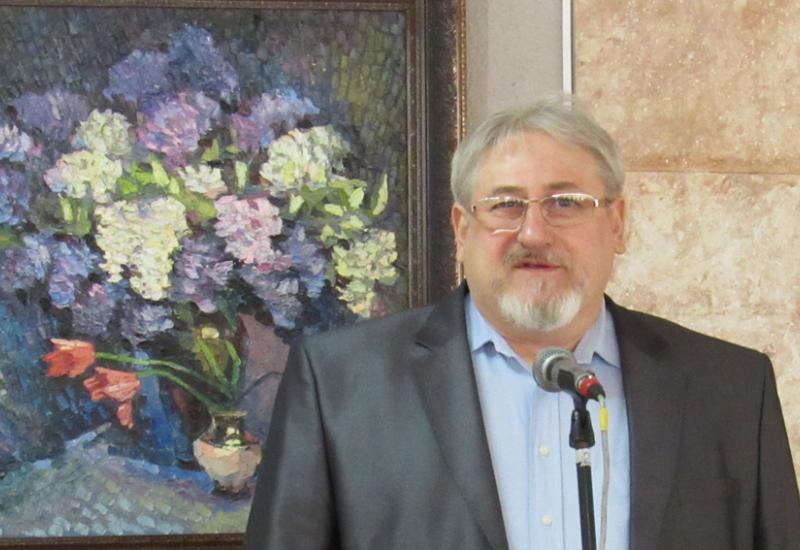 There are artists who do not want to be similar to others. The world-famous artist Andriy Kulagin belongs to them. He is a painter and graphic artist, boldly experimenting with color and form, working in the genre of landscape, still life and portrait. His work is disturbing the imagination, helping to feel the world brighter and deeper.
Now the paintings of the artist are decorating private collections and galleries of Austria, Australia, Great Britain, Germany, Italy, Libya, the Netherlands, Poland, USA, Slovakia, France, Russia and Ukraine. His portrait of Pope John Paul II is in the gallery of the Vatican Library, along with the works of Raphael and Titian. He has held more than a hundred personal exhibitions in Ukraine, Poland, Czech Republic, France and Italy.
On April 17, the personal exhibition of the artist was solemnly opened in the Art Gallery of the Palacer of Culture and Arts. It presents 29 paintings.
Andriy Kulagin is not a stranger in our university. For four years he has been in charge of the studio of painting and graphics "PCA Harmony", which, by the way, recently took first place in the city review-competition of folk art among such studios in Kyiv. Consequently, along with artistic talent, A.Kulagin, undoubtedly, has a pedagogical one.
The artist is often asked: why he spends so much time in the studio, as it may hurt the creation process. "For me, teaching students is a great blessing, I share with them knowledge, experience and ideas," says the artist. "Sometimes people come to the studio with zero training, and after a while they start to write paintings that are not inferior in quality to the professional". "Everyone has a dream, our studio is for those who wanted to paint, paint paintings, it's a great dream to engage in creativity, because we are like the Creator in our work, and I often see the joy that students experience in painting when their designs are realized on paper or canvas".
Bright canvases and graphic representations presented at the exhibition do not have the names of the signatures. The author believes that the impression-fantasy of the audience, not scattered by submissions, will be more free and deep.
The exhibition will last until May 17.