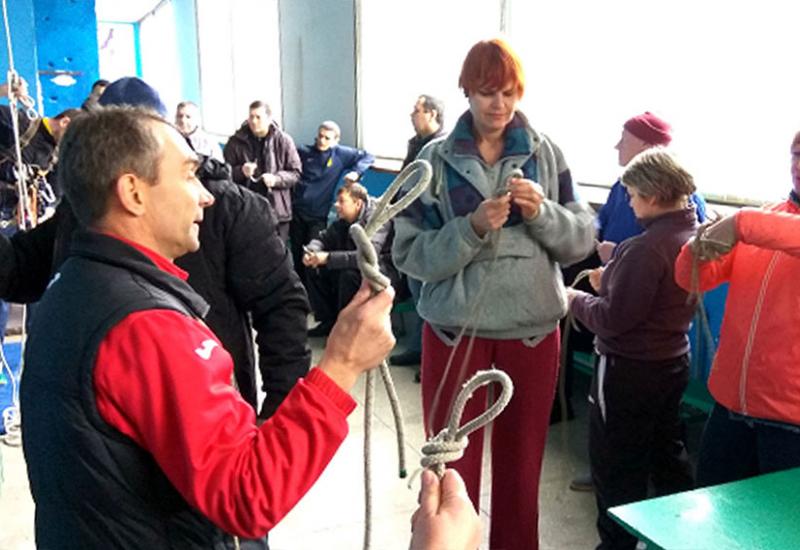 The practical seminar "Knot tying technique and practical application of tourist knots"  was held on January 17th for the lectures of the Department of Physical Education in the gym of sports tourism of Igor Sikorsky KPI sports complex.
Knots and loops have been used by humans since ancient times in hunting and fishing, in agriculture, in the manufacture of carpets and clothes decoration. Knots are widespread in various fields of human activity and have special features when being tied by sailors, surgeons, fishermen, firefighters, policemen, climbers, speleologists, builders, weavers, hunters, rescuers, and others.
During the seminar, senior lecturer V.M.Mikhailenko and lecturer S.M.Soha showed knots, studied by the students of the Department of Tourism, and also demonstrated their practical application. The staff of the Department of Tourism spoke about the impact of knot tying skills on the development of students' fine motor skills, logical thinking, memory improvement, and movement coordination. On the lessons, students also acquire the knowledge and practical skills they would need in their further life.
At the seminar, lectures studied the technique of tying the main knots in practice. These exercises are appropriate to use during any type of sport or motor activity, in the preparatory or final part of the lesson.
Those who wish to learn the technique of tying knots can apply to the Department of Tourism, to lectures of the Department of Physical Education V.M. Mikhailenko and S.M. Soha.