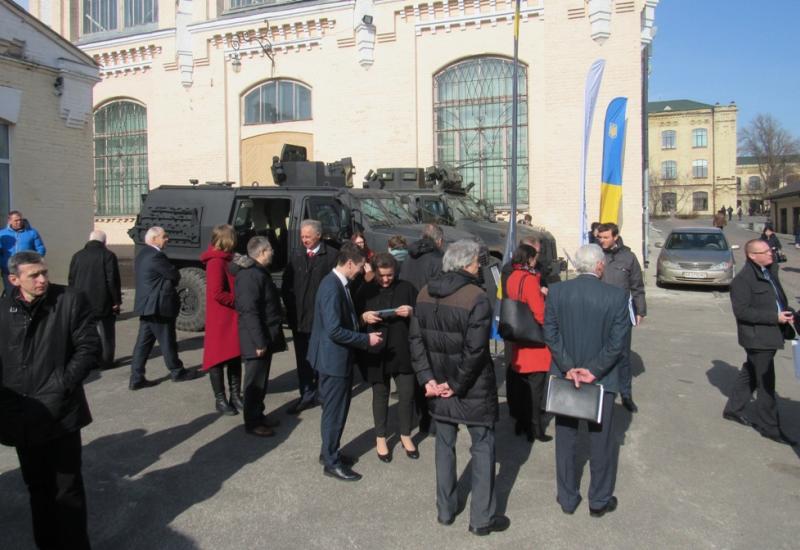 On March, 1, National technical university of Ukraine "Igor Sikorsky Kyiv polytechnic institute" run a presentational exhibition of new weapons, armored vehicles and dual-use technology for members of Kyiv association of military attaché.
Diplomatic representatives of military departments of 24 countries had a chance to familiarize themselves with new developments created on the basis of enterprises that are part of Public Union "Association of defense enterprise of Ukraine" and Innovative and Productive Association "Kyiv polytechnics" . The exposition was hold in Center of innovative enterprise of Igor Sikorsky Kyiv polytechnic institute and armored vehicles were places at the entrance of the hall. Guests observed several armored cars of "Cossack" series, presented by "Practice" company and powerful "KrAZ" presented by "AutoKraZ" Plc., armored jackets and helmets presented by "Ukrainian armor" company, models of radio electronics engineering presented by "Ukrspetstekhnika", infrared bullets to hinder rockets with infrared sight heads by "Adron" company as well as technology for modern communication and information protection, unit-power plant for water purification in field conditions "Sova", aerials for communication systems and radio electronics intelligence and many more presented by fellow workers of Igor Sikorsky Kyiv polytechnic institute.
However, moderators moved beyond demonstration of new vehicles. There was a series of presentations delivered to representatives of foreign diplomatic missions and journalists. Their moderator was rector of university, academician of Ukrainian NAS, Mykhailo Zgurovsky. General Director of Scientific Park "Kyiv polytechnics", Volodymyr Hnat was first to present some information about innovative environment of Igor Sikorsky Kyiv polytechnic institute "POLYTECO SCIENCE CITY". Chief Executive Officer of Association defense enterprise of Ukraine, Valentyn Badrak delivered general information about the association to those present and international relations director, Yuliia Vysotska spoke in detail about the objective of the public association's activity. After that there were presentations of new armaments and new technologies: unmanned aerospace complex BPAK – MP – 1 designed by polytechnics and presented by the head of OJSC Board "Meridian" n. a. Koroliov S. P. where it is designed, Viachyslav Protsenko; representative of Neat and Power Engineering Faculty Yevgen Kovalenko delivered some information about a series of nano satellites "PolyTAN" designed in Igor Sikorsky Kyiv polytechnic institute; Yurii Bogomol informed all those present about new armor materials technologies created in the university. Representatives of Institute of Information Systems of Igor Sikorsky Kyiv polytechnic institute, CB "Storm" and Faculty of Aerospace Systems demonstrated their developments as well. Scientists of Igor Sikorsky Kyiv polytechnic institute were followed by representatives of Association – director of company "Atlon Avia", Artem Biunnyk who demonstrated unmanned aircraft system for gun fire control system "Fury" and others.
The meeting ended with a speech of the president of Kyiv association of military attaché of Embassy of the Kingdom of Norway, Peter Midttun. He not only expressed his gratitude to the moderators for an opportunity to see new developments of Ukrainian scientists and representatives of private companies that work for armament of the country but also emphasized those contributions Ukrainian defensive field has made over the last three years.