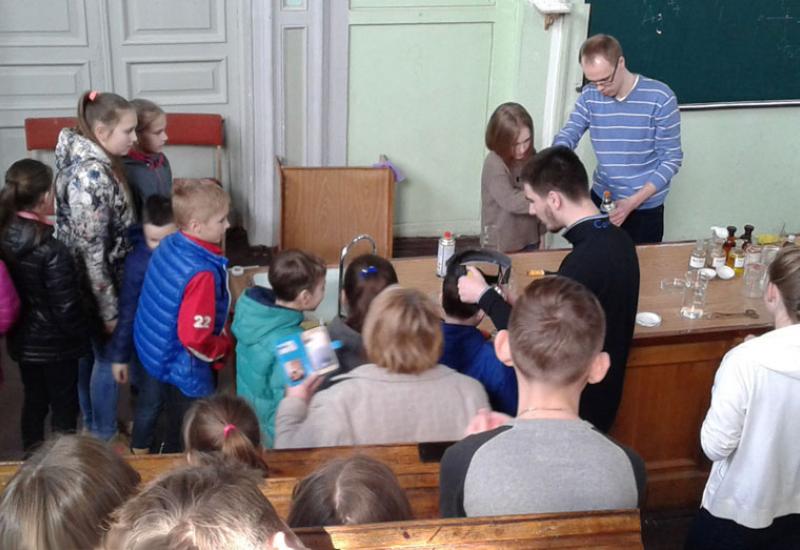 Nowadays, the fundamental natural science of chemistry occupies a central place among other sciences. It is chemistry that helps to understand the surrounding world, to determine our place in it and to provide a stable development of the mankind. Nobel Laureate in chemistry, Linus Pauling, said: "Nobody understands better than a chemist how the world is organised".
"Discover the world of chemistry!" is the motto of the project "Chemistry as a support and the basis of all sciences without exception" that was help on the 29th of March in the Great Chemical Auditorium.
The action began with the master classes "Chemical Technologies in Action" that were conducted by the students of the department of the Organic Chemistry and the Technology of Organic Substances, Chemical Technology of Ceramics and Glass and the Department of Physical Chemistry.
The student of the group HO-41 Mykhailo Bondarchuk demonstrated how a bright coating is applied to the Christmas tree toys (reaction of the "silver mirror"), also the brittleness of rubber that was removed from the liquid nitrogen, "cold green fire" (low-temperature flame of the burning boric acid and the ethanol).
Student of the group HO-51 Andriy Ocheretnyk and the assistant of the department Anton Golembiovskyi demonstrated the properties of the droplets of glass, which are formed when the molten glass freezes in water (drops of Prince Rupert). The drops are so strong that they can not be broken by a hammer, but in a moment they turn into the glass sand if you break their tail.
Students of the group HO-31 of the professional direction "Chemical technologies of the cosmetic means and nutritional supplements" Vladyslav Pichakhchi, Polina Nevpryaga and Khrystyna Gonchar demonstrated the preparation of an emulsion cream on a fatty basis using natural ingredients that you can do at home as well. Everyone could test that cream to lubricate their hands.
Students not only showed chemical miracles, but also attracted students to carry out experiments. There were a lot of people who wanted to help!
Finally, the staff of the department of general and inorganic chemistry - the head of the laboratory Olena Shuranova, engineer of the 2nd category Tetyana Kushmyruk and technician Irina Guk - have demonstrated interesting and unusual experiments: "Boiling water when cooled", "The chemical cut-bite Blood", "Smoke without fire", "Blood-to-empty transfusion", "Pharaoh's snakes", "Magnesium Burns in the atmosphere of carbon monoxide (IV)", "Volcanic eruption" (Rudolf Bötterer's Volcano), bengal lights, catalytic decomposition of hydrogen peroxide and others. Each experiment was excitingly commented by the dean deputy of the chemical-technological faculty on the educational work Iryna Lisovska. There was no limit to the children's surprise.
We hope that each student has discovered a small chemist researcher and in the future they will continue his scientific activity in the walls of our university!
Olga Kachorovska, deputy dean on the vocational guidance work
The program "The future of Ukraine" And the Academy of Sciences of Ukraine
Picture: the queue for the drops of Prince Rupert