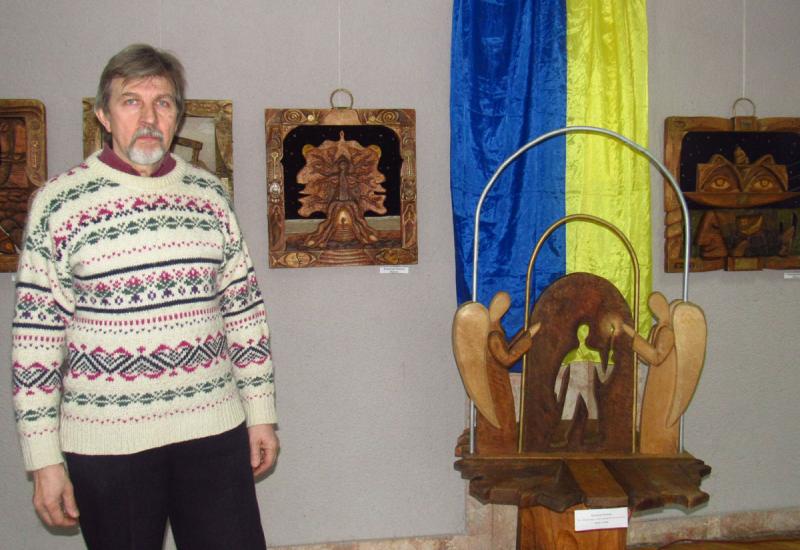 Personal exhibition of works of V. P. Pushkin was opened on 7 December in the Art Gallery of KPI them. Igor Sikorsky.
The works of Vladimir Pavlovich is well-known to the Kiev Polytechnic. None of the exhibitions "Talents KPI" is not without its carved compositions. And every time he took prize-winning places in the contest.
The artist's works belong to the decorative arts – here and drawing, and didgeridoo, and chasing, and most of all – thread. He works in the technique of collage to create images uses available materials – wood, metal, leather, tapestry and the like. Compositions reproduce the worldview of the author, who is trying to repopulate the environment only known to him by the strangeness and invites the audience to dive into the world of fictional beings. His paintings are not interesting pictures to create an interior, require observation and reflection.
Opening the exhibition, head of Art galleries.With.Totka said: "I am Pleased to provide exhibition space for our KPI artists. Vladimir Pushkin – a creative person with rich imagination, which is evident from his subjects and the variety of materials used. And he writes poetry and finds them a tune. His songs are wise, worthy to be listened to".
Friends-the bards of the club of author's song that accompanied the opening of the exhibition with his singing and guitar melodies came to congratulate the hero of the day not only with the opening of the first solo exhibitions but also with the recent anniversary. Yes, this youthful, always smart and friendly man recently celebrated its 60th birthday. This congratulation and we wish you all the best, and most importantly to continue to delight spectators (listeners).
"If people come to see his works, then they makes sense," said one of the visitors of the exhibition.