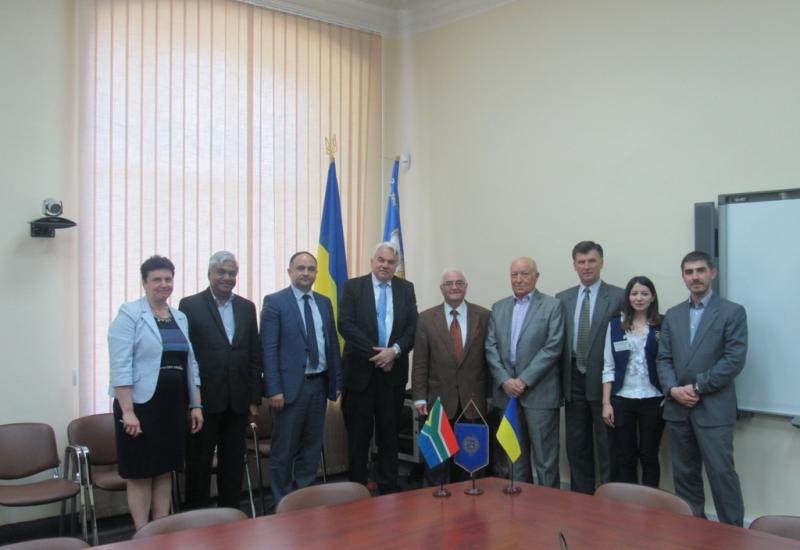 In June, 1, Extraordinary and Plenipotentiary Ambassador of South African Republic in Ukraine, Christian Albertus Basson visited NTUU "KPI".
He was accompanied by first secretary of PAC in Ukraine, Vishvont Munlchend Badal and counselor of economics and tourism of Embassy Olexandr Ohrimenko. The head of Department of Sub-Saharan Africa, MFA of Ukraine Rustam Adjar visited NTUU "KPI" as well.
Having familiarized themselves with historical part of KPI campus, Scientific and technical library of NTUU "KPI" and expositions of National polytechnic museum at NTUU "KPI" and its Department of space and aviation named after I. Sikorskyi, guests had a meeting with the administration representatives and university subdivisions.
Pro-rector for international cooperation, correspondent member of Ukrainian NAS Sergii Sydorenko, director of university Center of international education Volodymyr Koval, dean of Heat and Power Engineering Faculty Yevgen Pysmennyi, manager of the department of international economic activity of Cooperation Department Andrii Shysholin took part in the meeting.
The meeting participants discussed the cooperation potential of KPI with other higher educational establishments, scientific organizations and enterprises involved into productive economy of SAR. The particular attention has been put to cooperation potential in scientific support of nuclear power engineering and air space field. The agreement on renewal of contract and opportunities studying regarding academic exchanges and teaching process organization according to the programs of double degree between KPI and SAF universities has been reached.